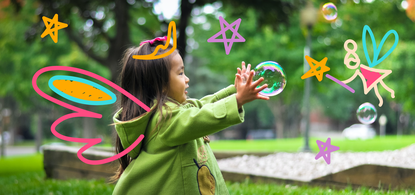 A research team led by Dr Alex De Young in Queensland has investigated the effects of the COVID pandemic on Australia's children. The 'COVID-19 Unmasked' study by Children's Health Queensland asked more than 700 Aussie families about their experience of the COVID pandemic and lockdown.
'The COVID-19 Unmasked study has so far shown that around 80% of children have demonstrated resilience and positive emotional wellbeing in the face of a very challenging time,' explains Dr De Young.
What that means is that 1 in 5 children are 'experiencing mild to moderate emotional or behavioural difficulties,' she shares.
Dr De Young found that the underlying trend running through the results was that disruption to routine was the cause of much of the anxiety and uncertainty for children. This was evidenced from the survey where parents reported their young children (aged between one and five) were impacted by not being able to see their friends and family, and missing important events, as a result of lockdown and COVID regulations.
Toddle spoke with Dr De Young to find out more about the implications of her work.
How does changes to a child's routine affect them?
'Routine is very important for all of us and especially little children,' says Dr De Young.  
'In a big and chaotic world, the predictability that comes from having a routine helps them to feel secure and at ease with their environment. Routine also includes expectations (e.g. get dressed after breakfast, manners at the table, brush teeth before bed) which help guide children's behaviour. 
When disruptive events occur in life, the normal daily routine is disrupted. Parents are often busy attending to important adult matters like, changing work and child care arrangements for instance. 
For children, other major disruptions to their routine include changes such as, parents working from home and having to set new rules about coming into rooms when meetings are happening, and being on phone calls, not being able to visit grandparents, not having play dates, or attending child care. These changes can leave children feeling insecure and anxious.'
What does this anxiety look like in children? 
'Since little children are still learning how to manage their feelings and communicate, this worry and uncertainty often shows up in their behaviour,' says Dr De Young. 
'It is common to see in little children increased clinginess, tantrums or a lack of motivation to do what adults ask them to do. Quite often their anxiety is expressed as anger and frustration. 
Their emotional reaction to the event can also be seen in sudden changes in their eating habits, going backwards in skills or habits they had already mastered like toileting, talking, trouble getting to sleep, more night waking, or experiencing nightmares.'
What can parents do? 
'It's important for parents to think about whether any changes they notice in their child's behaviours are much more or less than usual and monitor how long they continue for,' explains Dr De Young. 
'Many of these behaviour changes don't usually last for long and with good support little children usually adapt to changes quickly. 
If parents notice that their child's emotional or behavioural changes last longer than a few months or occur more often it may be important to seek advice from a doctor to see if professional help is necessary.'
Is there a silver lining? 
'Disruptive events are often an inevitable part of life and if managed well by adults can help children to develop flexibility and resilience,' shares Dr De Young.
'What can be very helpful in stressful times, is to focus on the things that remain within our control and use these to help children cope well. 
Trying to maintain as much routine as possible, where possible maintaining expectations, providing reassurance throughout uncertain periods and seeking support from loved ones are just a few examples.' 
Are children more resilient than we give them credit for?
'Definitely,' says Dr De Young. 'Throughout the beginning of the pandemic, children who were still able to do regular activities outside and receive warm and positive support from their parents demonstrated they were able to maintain good amounts of positive feelings and manage their frustrations well, according to the study. 
With the right support, children are generally very adaptable and resilient. Although it is important to remember that children can experience distressing emotions, they pick up on the stress of those adults around them and they can have their own worries. 
As previously mentioned, this is often reflected in changes in their behaviour which can then be mistaken for misbehaviour, attention-seeking or a normal developmental stage such as the "terrible twos" for instance.' 
What should parents look out for?
'It's important for parents to be curious about why their child may be expressing certain feelings or behaving in a particular way, to think about whether any of their child's emotional needs are being unmet,' says Dr De Young. 
'If you notice significant changes in your child's emotions or behaviour that seem to be persisting and you're unsure whether it's typical for their age, think about seeking a professional opinion or calling a parent or child health helpline to talk through your concerns.' 
How can child care centres help?
Dr De Young explains that it's important to support and train early childcare educators and teachers so that they can identify the early signs of mental health difficulties in babies and young children. From there, they can learn the tools needed to build emotional literacy and promote coping, resilience and wellness. 
'An early childhood centre-based implementation of a stepped care framework is likely to have the greatest access and reach to the greatest number of young children and their families, and lead to more positive and sustainable outcomes when such services are embedded within them,' she explains.
You can read more about the survey and results here.
---
---
The importance of routine for children, post COVID lockdown