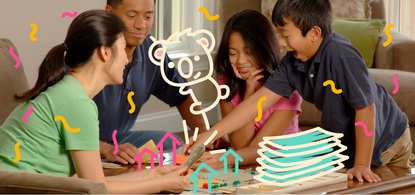 With #isolife in full swing, it's natural to look for the silver lining in all this forced time at home. The answer is easy to see when you imagine a time in the future when you talk about the lockdown with your child, in around 10 or 15 years. 
You'll say 'don't you remember, we had to stay home all the time? Lots of people lost their jobs, the hospitals were overcrowded and all those people lost their lives?'
Do you know what your kids will probably say? They'll probably remember that yes, you had to stay home more than usual. But more than that, it's very likely that this time will be fondly remembered as a special time that they spent with their family. This is what they will recall…

1. We didn't have to rush out the door in the morning
Those minutes before you need to get out the door can be the most stressful of the day. Now though, there's no mad dash to wolf down your Weet Bix or a scramble to find missing shoes (truth be told, your kids may not have worn shoes in some time). 
Mornings have become free of the go-go-go mentality that grips many of us parents. All of a sudden, having a pyjama day, baking brownies and eating them in front of your favourite cartoon together is very doable. It's great for kids to see their parents having some downtime. It shows them that we don't have to be busy in order to be doing something meaningful. 

2. One or both parents were able to work from home
In your child's mind, having parents that work from home means that someone is always available for a cuddle, a tickle or a story. The children won't have to clamber for your attention, as you're always there. 
You can make new traditions and games together. Some older children might even enjoy stepping up and helping out with small tasks like pegging out the washing, building their resilience and confidence. 

3. The whole family ate three meals a day together 
With many parents normally working out of the home, it's not often that you'd get to have breakfast, lunch and dinner together every day. When you're in isolation with kids, you get to enjoy each and every meal together. 
Family meals are a great way to bond with your children.  Sharing food, talking about your day, discussing your feelings – these are all powerful ways of forming connections.

4. We exercised together
In many households, exercise would mean mum heads to the gym, dad goes for a run, and the kids play their team sports or run around at the park. 
Now we are all Googling 'workouts for kids' and doing yoga together in the lounge room, or going on a family bike ride to get some much needed exercise. 
Getting those endorphins flowing and enjoying some fresh air is a great way to shake off the stress of the day and reconnect as a family, in a different setting.

5. Little things are exciting again
Like receiving something in the mailbox, baking some cupcakes together, or washing the dog in the garden. All of a sudden these little moments seem bigger somehow, without all the noise of life drowning them out. 
We can revel in the excitement of leaving bread out for the birds, or planting a herb garden together and watching it grow. Rather than ticking things off our never ending to-do list, we can be in the moment and enjoy the experience as well as the outcome.

6. We played board games together 
We built forts out of blankets and pillows. We watched more episodes of Bluey than we'd care to admit. We had family dance-offs. We pretended to be puppies, or ninjas, or Fireman Sam or whoever else came to mind. We read stories in the hammock, coloured in together, or organised the toys.
For many children, having parents on hand for fun and games like this is so special. It's the type of memory that will live on for years to come.

7. We tried new activities 
Slow process activities like bread making or building a treehouse are suddenly doable when you've got this much time at home in isolation with kids. 
These are the sorts of activities that you might not normally be able to fit into a busy schedule. Now with the weekends stretched ahead of you, there's time to slow down the pace and enjoy the quiet moments together as you complete a project.

8. We didn't have anywhere to be
No afternoon swimming lessons, no weekend meet-ups at the park, just hours and hours of free and unstructured time to just…be. This kind of downtime is so rare in modern parenthood. We try to make the most of any free time that we have to schedule in activities, catch-ups with friends, meals out or running errands. 
All of a sudden our calendars are free and easy and this can be refreshing for a child. It opens up their creativity and gives them the space to come up with new ideas for activities. Perhaps this afternoon, the floor becomes lava and you have to jump from cushion to sofa to get through the bubbling hot magma!
As parents, we can make our home a safe haven for our little ones, full of love and cuddles, away from the scary news. They can then remember this period as a happy, harmonious time full of connection.
---
---
8 reasons why isolation will be fondly remembered by our children