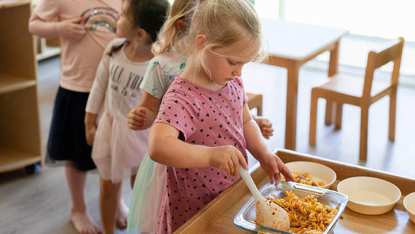 As educators, it is an absolute necessity that you're offering quality food to all your students. When children are young it is the ideal time to build and install their eating habits. By offering them an assortment of good food you can assist in developing their tastes. They can discover new and interesting foods and perhaps even come across a new favourite or two! In this article, we'll explore a few ways that you can help you promote healthy eating, improve their diet, and involve them in the preparation of food.
How to promote healthy eating in child care
We've all met people that seem to be picky eaters, but in reality, all that has happened is they have not developed their sense of taste. All new foods they try are to the extreme of what another person may find. For example, if you don't eat a lot of meat, your senses become heightened towards it and you'll usually notice the strong smell of meat where others may not, the same goes for all sorts of foods. Want to know if something has capsicum in it? Ask someone who rarely eats it, and you'll get your answer! This is generally why children may not eat some foods, they simply have not had it before and the flavours can seem incredibly strong. Eating properly and staying healthy in child care is important, as it builds the children's knowledge of food and they can use these skills later in life. 
Finding the right strategy to use to get children to try new foods is important as it will help them form good habits. Start by making the area comfortable for all people, remove any distractions and have everyone sitting in the same location. Eating together is a great way to encourage young children to eat more foods. If they see what their peers are eating it can make them more curious and willing to try those foods. As an educator, you can also eat the same foods as the children at the same time. As they look up to you as a role model, the simple act of eating with them can lead to copycat style behaviours. While you're eating, talk about what the food is, you can discuss the origins and where they may encounter these foods. Often children are more willing to try something if they understand the origins and know where it has come from. Talk about everything in a positive manner, and make sure you are trying something new as well (even if you have to pretend!).
What to feed children?
When it comes to setting a menu for children, you can offer them an assortment of foods. Try to put out several different items rather than a select few. This allows them to choose what they'd prefer and there is less pressure for them to eat what is put in front of them. You can include foods that are different colours and textures. It can be very hard to determine what a child exactly likes so giving them choices can make it easier for you.
It's important to note that a child's appetite will differ from day to day. You may find they are very hungry one day and barely eat anything the next. For this reason, set meal times can be difficult to stick to, as there is no guarantee the children will be hungry at that time. If you do have set times for breakfast, lunch, and dinner, it can still be a good idea to have snacks on hand just in case anyone is feeling peckish and needs something to tide them over until the next meal is ready.
For children requiring a packed lunch, these healthy lunch box ideas could be good to follow.
Involving children in food preparation
Children that are staying healthy in child care can usually benefit from helping with the preparation of healthy food. By working with food, often children are more willing to try it, it allows them to understand what has gone into the food and what it looks like before it was prepared into a meal. As they are a part of the entire process, they may be happy to eat and enjoy the final product. If you have a school garden, they can even pick fruits or vegetables from that. Or if it's a possibility you can arrange for an excursion to a fruit picking farm so they can see where the food has actually come from before it gets into the supermarket.
Conclusion
There are many strategies for how to promote healthy eating in child care, and you can try some of those mentioned in this article or choose to develop your own. Children are always learning and food discovery can take time. Often, they may be resistant, but with careful nurturing and keeping them involved you can see some really good results even from the pickiest of eaters!
---
---
Staying Healthy in Child Care & Promoting Healthy Eating