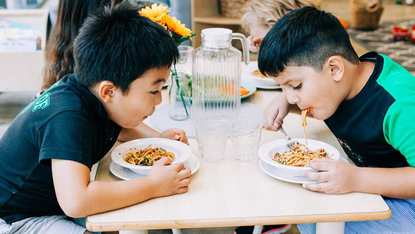 We all know that healthy eating is essential for the growth and development of our children. Junk foods can be okay from time to time, but too much may have negative health impacts like obesity, type 2 diabetes, and heart disease. Balance is key.
Parents today are busier than ever. When you are juggling all the other parts of your lives, getting in your child's recommended 5 a day may seem like an impossible task – but it can be done. Packing nutritious munchies that will excite your little ones (even the fussy eaters) at child care or school doesn't have to be complicated.
You can't go wrong if you follow this simple healthy lunch box formula: one-half colourful fruit and vegetables, one-quarter complex carbohydrates and one-quarter protein. Healthy fats and dairy (or dairy alternatives) are also great for keeping your kids energised for learning and playtime.
Here are some ideas for healthy kid-friendly options for the lunch box:
Homemade muffins and cookies
Muffins and cookies you buy at the supermarket are convenient and tasty, but they're not as healthy as a homemade version. There are plenty of easy one-bowl sweet AND savoury muffin and cookie recipes that can be cooked in batch and frozen for quick meal prep. The best part is you can sneak in extra veg!
Try Pinterest for some inspiration! This sugar-free banana muffin recipe is sure to be a hit! And did you know you can make tasty, simple and healthy cookies with just oats and banana OR pumpkin? 
Baked packaged goods
Have a healthy stash of these yummy snacks on hand for even less fuss. Snacks from the health foods section are tastier and more exciting than ever. Try and find low-fat/oil, low-salt baked snacks, with only a few ingredients.
Some favourites include: baked chips, pretzels, popcorn and wholegrain crackers. Beans like chickpeas and edamame are great sources of plant-based protein.
Trail mix
Trail mix generally consists of a mix of nuts, seeds, granola and dried fruits. You can make your own or buy some from your local supermarket. It's easy finger food for little ones.
If your child is not allergic and allowed to bring nuts/seeds to child care or school, trail mix is a breeze to pack and will be a family favourite. Otherwise, keep it on hand for an afternoon snack at home.
Raw veggies with dip
Kids love dipping their food. Pack raw veggies with hummus, sweetened yoghurt or other dips they enjoy. You can also mix it up with some crackers (like Vitaweats or brown rice cakes) or fruit with dip.
Low-fat, unprocessed meats and meat alternatives
Switch out processed meats (like ham, salami and Spam), for less processed options such as sliced turkey or chicken and canned fish.
Plant-based proteins like edamame, tofu and beans are also great alternatives that are good for heart health. The Cancer Council has more tips for unprocessed meats. Wholegrain breads and cereals like crackers are a perfect pairing.
Slices of fruit
Try and get in at least one serving of fruit with every lunch, and one serving of vegetables.
Include slices of fresh fruit, rather than fruit juices and dried fruits. Why? Because only fresh fruit has all the good stuff like fibre, vitamins and minerals. Fruit juices and dried fruits are higher in sugar, not to mention fibre (which is amazing for digestion) is broken down during the juicing process.
Baked beans
Not all canned baked beans are made equal. Try to find ones that are low-salt and/or no added sugar. Heinz has both ranges at affordable prices. Or alternatively, you can try and cook your own.
Dairy and dairy alternatives
Low-fat cheeses, plain Greek yoghurt and unflavoured milk (and soy milk) are great sources of calcium, protein and vitamin D. Try to avoid packing flavoured milks and desserts for everyday lunchboxes.
Conclusion
A healthy lunch for your little ones doesn't always have to include a sandwich. These ideas will help keep your kids' lunchboxes fresh and exciting – something to look forward to.
Healthy meals don't have to be super complicated or hard. You can do 2-3 days of meal prep so you don't have to pack lunch every single day. To help your kids live their best lives, include a good mix of colourful fruit and vegetables, whole grains and unprocessed meats, dairy and/or plant-based protein.
Toddle can help you find child care or a preschool that offers healthy lunch options for your children, to help you save time. Check a centres profile to see what meals are offered, and reach out to find out about their healthy options.
---
---
Healthy Lunch Box Ideas for Kids (Even Fussy Eaters!)