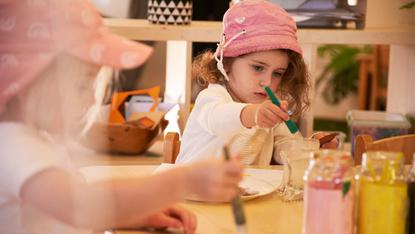 Toddler craft is a fun activity to keep little hands busy, and the end products make unique and adorable gifts. Mums love receiving handmade gifts from their children, as it's thoughtful, sweet and captures kids in that moment in time, so get creative this Mother's Day and surprise Mum with some heartfelt gifts she'll love. Craft with toddlers can be simple, inexpensive and achievable and we'll show you how with these Mother's Day craft ideas for toddlers.
Salt Dough Handprint tealight holder/coasters
These handmade tealight holders (or teacup coasters) are a lovely present for Mother's Day that will also preserve your toddler's sweet hands at this age.
What you'll need:
Salt
Water
Plain flour
Acrylic craft paints
Craft varnish
Newspaper
Kitchen dish/plate big enough to fit a toddler's hand, covered in alfoil
Method:
Make this easy salt dough recipe, cutting the dough into round or oval shapes big enough to fit a toddler handprint.
While the salt dough discs are cooling, prepare an area where things can get a little messy - considering there will be toddler hands coated in paint, outside might be the safest place. Cover all surfaces in newspaper, and ensure that you and your child are wearing old clothes and painting smocks.
Put a large amount of the desired paint colour on the shallow dish or plate and spread it evenly on the base, and prepare a bucket of warm soapy water that the painted toddler hands can go straight into once the craft is finished, and an old hand towel to dry them.
Once the salt dough discs are completely cool, lay them out on the newspaper, and get started! Help your toddler place their hand into the paint (palm down) and press, then guide their hand to the salt dough disc and press gently while trying to ensure it doesn't smudge (a bit of imperfection is part of the appeal of handmade toddler presents).
Leave to dry thoroughly, and coat with craft varnish for longevity.
Handprint butterfly card
This card is another way to preserve the precious memories of toddlerhood, by making a Mother's Day card that features a butterfly made up of your toddler's cheeky face and chubby hands.  
What you'll need:
A photo of your child looking happy (you will need to cut out their face so check sizing)
A4 paper or craft card (you may need a bigger piece if your child is older)
Pencils or pens
Acrylic paint in colours of your choice
Paint brushes
Method:
Similar to steps 2 and 3 of the craft above, prepare the environment with potential for mess in mind (you could even do these activities one after another to make use of the set up).
Before getting the paints out, get the paper/card ready by folding it in half to form a card. Draw a butterfly's body in the centre of the card, then cut out the photo of your child's face and glue to the top of the body. Draw the head around your child's face, with two antennae at the top, and now you're ready to get your toddler involved.
It's a bit of a delicate process, but it's fine if it gets a little messy because the intent will be appreciated. The aim is for your child's handprints to become the butterfly's wings, with the palm joining on to the body and the fingers the tips of the wings.
Have your child press their hand into the paint, and then press carefully on to the card, starting at either side of the upper half of the body, and then completing with a matching set of prints on the bottom half of the body.
Draw grass, flowers and sky around the butterfly, or encourage your toddler to have a go.
Painted flower pot
Gifting a plant is a present that keeps on giving, and putting it into a unique hand-painted pot makes it even more special. This is an easy project that your toddler can get involved in too, making it personalised and special.
Here's what you'll need:
Terracotta pot/clay pot - make sure the finish is rough or the paint won't stick.
Acrylic craft paints
Paint brushes
Waxed paper/baking paper
Method:
Set up your area with newspaper over a table, and wax paper laid down where you will place the flower pot (this is because newspaper will stick to your pot as it dries, wax paper won't).
Place the terracotta pot open end down on the wax paper, set up the desired paints (small plastic pots or a plate covered in alfoil) then let your toddler get started.
While the level of painting will depend on their age and ability, try to let them take over the painting process so that the finished gift really comes from them. You may be needed to hold the pot steady, or to help move the pot around as they colour in areas, until the whole pot is covered in paint.
Once it's finished let it dry, and spray with a waterproof craft spray for longevity.
Plant a small succulent or colourful flower in the pot and let it flourish as a living memory of this day.
Have fun with your toddler creating these crafts, and gift them to Mum for a touching gesture of appreciation and love this Mother's Day. Remember you don't need to get too worried about the end result, as knowing that her precious child made it will make it the most meaningful gift, that will be cherished for years to come.
Take the hassle out of finding a childcare centre - use Toddle, the most comprehensive childcare search service in Australia, to find the perfect fit for your family. 
---
---
Mother's Day Craft for Toddlers