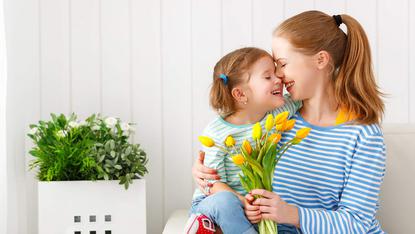 All mothers should be lavished with love and attention on Mother's Day, but a mother's first Mother's Day is of special significance, and the present she is given for the occasion should reflect this. Becoming a mother is a life-changing, beautiful, overwhelming and transformational event, and marking it with a thoughtful gift will make the new mother feel loved and appreciated, and give her memories to be cherished throughout her mothering journey.
Finding the perfect gift requires knowing the person you're gifting it to and thinking about what would make them feel happy and excited, but sometimes it's also helpful to be given somewhere to start – and that's why we have put together some first Mother's Day gift ideas, with a range of gift types that can be personalised to suit the special mother in mind. Along with a present, give Mum a sleep in and some time to herself, keeping baby entertained so she can relax.
A gift of flowers or fruit that lasts
Flower arrangements are beautiful and can bring days of colour and joy to a home, but gifting a plant that can grow and bloom or fruit for years to come – and that will always be a reminder of that first Mother's Day- takes it to the next level.
Consider where you live and what plant would be compatible, and what the new mum would love to receive. Here are some ideas for long-lasting but relatively hardy plants:
Rose - with a rainbow of colours to choose from (and accompanying variety of scents), and beautiful flowers that can bloom multiple times a year, the rose will be a winner for most mothers.
Gardenia - these flowers also have a heavenly scent, and with their glossy leaves and thick, waxy white petals, they're a luxurious choice.  
Japanese Maple - these trees have beautiful feathery leaves that range in colour from vibrant red to pink,  Autumnal colours that are a perfect reminder of Mother's Day.
Apricot tree- there is nothing like fresh apricots from the tree, and the tree will likely be fruiting when your little one is just getting old enough to help pick them!
Apple tree - apple trees provide lots of leafy shade in Summer, delicious fruit in Autumn, and clouds of pink and white blossoms every Spring, making them a wonderful addition to any backyard.
Personalised jewellery
Jewellery is a classic and timeless gift, because it is universally loved and versatile-  it can be as intricate or plain as you'd like, and tailored to suit the person you're buying for to show the thought and care put into choosing it. For Mother's Day, why not buy a piece that can be engraved with baby's name and date of birth? Think about what the mum in mind wears - whether she likes silver, gold or rose gold jewellery - and choose something that can be worn every day as a reminder of this special time. Just make sure to carefully select the engraving service you use by reading reviews and community recommendations, as some are capable of finer work than others.  
Here are some ideas for jewellery that can be engraved:
A ring (plain or with her favourite stone), with the date she became a mother engraved on the inside
A plain or textured disc pendant with engraving on its surface- if she's planning on having more children, you could choose a disc that has space for multiple names
A bangle with a personal inscription on the inside
A charm bracelet with a disc charm that holds the name and date of birth of her first baby, with the option of adding additional charms if her family grows 
First memories photo album
Nothing is quite as special as memories, especially those first memories of motherhood. Give a new mum the gift of memories captured forever for Mother's Day, by collating a collection of photos for her. Choose a beautiful photo album, get a selection of photos of her and her little family printed, and arrange in the album in chronological order. For a modern twist on this idea, buy a digital photo album that can be displayed on a shelf as it rotates through photos, and that can be added to as the years go by and more memories are made. 
Massage/nurturing activity
Most new mothers are experiencing sleep deprivation, and will be stiff and sore from all the strains of holding and caring for baby. Finding an experience that will fully relax and rejuvenate them will help them to feel nourished and re-energized for the important and intense work of mothering. Depending on their preferences, this could be a massage, a facial, manicure or pedicure, or even a combination. Make sure you have someone to look after baby so that she can relax before and after the experience to truly make the most of time to herself.  
Baby feet print or baby feet castings  
Another way to preserve a precious moment in time is making prints of baby's feet, or bronze, gold or silver castings (a 3D sculpture of baby's foot) of their feet that can be mounted on the wall. For a quick and inexpensive but equally effective option, find a time that you won't be interrupted and paint baby's feet with non-toxic, water-based paint and carefully press their painted feet onto quality paper. Let the masterpiece dry, date with neat writing and place in a beautiful frame.
However you choose to spend Mother's Day, giving a gift that will make her smile and feel appreciated is a good way to start, so with these ideas you really can't go wrong.  
It's never too early to start thinking about where you want your little one to be cared for when the time comes, so read about what age to start childcare, and use Toddle to find a childcare centre that matches your preferences.
---
---
First Mother's Day Gift Ideas