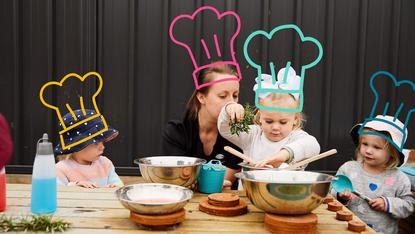 Holidays are a special time to take a break from the usual busy routine and connect and spend time as a family. To make your time together fun for everyone, we have compiled a selection of holiday activities for kids, including indoor and outdoor activities, that will keep them happily entertained so that you can also have some downtime.
Make an indoor cubby
Planning and making an indoor cubby with the help of your kids is an especially suitable activity for when the weather is cold or rainy, as they will spend hours engrossed in creative play with it. There are many ways to design an indoor cubby, and you shouldn't need materials you don't already have at home: string some rope or strong twine between curtain rods and wall hooks and drape large clothes (tablecloths or even bedsheets work well) to create four walls, and use a chair or stepladder to lay another cloth over the top. Now that you've got a cosy cubby structure, furnish the inside with cushions, or make a small kitchen area and 'bedroom' to emulate a house.
Baking
Children love baking, and not just for the delicious food at the end- they enjoy measuring, pouring and mixing, and putting their creation in the oven to watch what it becomes. It also teaches kids a valuable life skill, and introduces concepts such as mathematics and science in a relatable and practical way. From muffins to quiche, get into the kitchen with your kids, and make a delicious meal or snack to share together. You can find some baking ideas for kids here.
Nature scavenger hunt
Creating an outdoor scavenger hunt is a great way of getting children out in nature, and having a few moments to yourself while they find the treasures.
Make up an A4 piece of paper or card with 12 separate clues to objects that can be found in your backyard (or local park), such as round stone, green leaf etc. Using simple rhyming clues is a fun way for kids to practice critical thinking and problem solving, but make sure they're achievable for the age-group you'll be playing with. For example:
I am green and hang from a tree, I come in all shapes and sizes, it's not hard to find me!
For younger children, you could sketch the nature object for each clue you're asking them to find. It's optional for you to give a prize or treat once they've found all of the clues.
Gardening
Another great way to get the kids outside is to do some gardening with them. You don't need a large backyard, or to be an avid gardener yourself, as even the simplest gardening activities will be a valuable experience for children. Here are some ideas:
If you have an existing garden bed, let your kids help plan to plant it out by looking up what can be planted this season, planting the seeds or seedlings together and watching them grow
If you don't have an existing garden bed but have the room, consider building a simple bed together and planting out some seasonal vegies. Look up no-dig garden beds and straw bale garden beds online for some easy options
If you don't have much, or any, outside space, make some planters to put on your balcony or windowsill, and grow herbs for your kitchen
Craft
Craft can be a relaxing activity that helps children to slow down and stay occupied indoors. There are craft activities suitable for every age group, so here are some ideas to consider while thinking of your child's age and abilities;
Flower press - if you don't have a flower press, simply pick some beautiful flowers and leaves and carefully place them in the pages of a heavy book and top with other heavy books until flower is pressed and dried (you can then use the dried flowers to make a beautiful collage).
Paper mache - a fun and versatile craft, check out this article on paper mache ideas for kids to find out how
Drawing or painting - simply prepare for a bit of mess, give your child some paper and pencils, crayons or paints and let their creativity flow
Now that you've got some ideas for the holidays, relax and look forward to spending quality time with your children and even getting in some time to yourself while they're busily entertained.
Think ahead to when the holiday is over, and use Toddle to find the perfect childcare centre in your area.
---
---
Holiday Activities for Kids