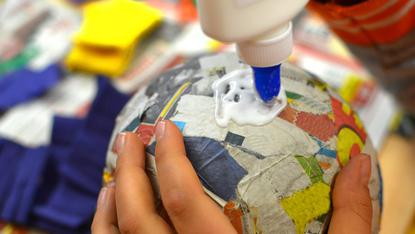 Making craft with your kids is a great way to have fun and connect together, encourage creativity and practice skills, and keep them happily entertained. Paper mache is an easy and simple art form using newspaper and special paste that can be used for limitless projects, and involves activities kids love such as ripping, gluing, sticking and painting. Once you've got the hang of this fun craft, you'll be able to make whatever you can imagine. But to get you started we've found a quick and simple paste recipe, some easy paper mache crafts to learn the technique, and paper mache ideas for kids to inspire your next project.
What you'll need
For any paper mache project, you simply need paper mache paste, newspaper, a form to stick your newspaper to, and anything you like to decorate. Here's how you make the paste.
Paper Mache Paste
Kids will love mixing up this goopy paste, and as a bonus it's non-toxic and involves ingredients you're likely to already have in your house.
To make, simply stir one part flour with two parts water, whisk until the lumps are gone, and add extra flour or water until the paste becomes a runny white glue consistency. Refrigerate until used.
It can get a little messy, which the kids will love, so before you start just cover all the surfaces you're working on, put on an apron and wear old clothes.
Paper mache pinata
You'll need:
Paper mache paste
Newspaper
Large, round balloon
Paint
Tissue paper
String/twine
Masking tape
Method:
Blow up your balloon as far as you can, then place it in a bowl that's covered in plastic wrap, knot facing down.
Tear up the newspaper into rough strips, around 1 inch wide and 6 inches long.
Dip the strips of newspaper into the paper mache paste, and remove excess paste by running the newspaper between two fingers. Carefully lay it onto the balloon and smooth flat. Repeat this process, sticking the newspaper in different directions until the whole balloon is covered, apart from a gap where the balloon knot is so that the balloon can be popped and removed. When the balloon is covered by one layer of newspaper, set aside to dry.
Repeat with another two or three layers of newspaper, allowing each layer to dry in between. Once the last layer is dry, pop the balloon and remove it through the hole.
To decorate, paint your pinata with colourful paints, and glue on streamers and patterns cut from the tissue paper.
Cut four small holes around the large hole where the balloon was removed, and thread string or twine through each hole and tie in the middle. Attach to another piece of string/twine so that you can string your pinata up high.  
Fill with sweets or party favours, hang up and play!
Paper mache bowls
These bowls make gorgeous colourful decorations, jewellery holders, and gifts. They're fun and quick to make, and the kids will love getting involved in the process.
What you'll need:
Newspaper
Paper mache paste
Glass bowl
Acrylic paint and paintbrushes
Aluminium foil
Method:
Rip the newspaper into approximately 1 inch strips.
Find a kitchen bowl (the size is up to you, but glass is easiest to clean) and cover the outside with aluminium foil and spray with cooking oil.
Dip the strips of newspaper into the paper mache paste, and remove excess paste by running the newspaper between two fingers. Carefully place it onto the bowl and smooth flat. Repeat with all the pieces of newspaper, sticking in different directions until the whole bowl is covered (trim the edges if they stick out beyond the bowl). When it's covered by one layer of newspaper, set aside to dry.
It's up to you how many layers you add, but adding a few layers will make the bowl stronger - just make sure you dry thoroughly between layers. Use a fan to speed up the process.
Carefully remove your paper mache from the bowl, and decorate the inside and outside with paint. Before painting, you can lightly sand with sandpaper to get a smooth texture and finish the edges, and for longevity cover with an acrylic varnish inside and out after painting.
Now that you've got the basic technique down, here are some ideas that you can create with paper mache and a little bit of imagination:
Paper mache spiders – use the pinata technique to make the body of a spider out of a balloon, paint black, stick on some eyes and poke some long black pipe cleaners in for the legs
Letters - make letters by creating 3D letter frames out of cardboard and masking tape, and then finish with paper mache and paint to decorate. Make them big for a kids party, or a whole set for alphabet practice
Hanging lamps - use the balloon technique, but only paper mache 2/3 of the balloon. Stick shapes cut out of paper to the outside, and place a fake tea light in the bottom so that when the light is on the pattern is illuminated. Make small holes to attach string and hang them for a beautiful and unique display.
Fabric bowls - a twist on the paper mache bowl above, use strips of spare fabric and use the same technique to create colourful bowls, and finally use that fabric stash!
Now that you've got the skills, have fun making and creating with your kids - don't be afraid of a bit of mess, it's easily cleaned up and the beautiful projects and memories made will be worth it.
Child care can also be a great way for your kids to learn skills, have fun making arts and crafts, and socialise - search Toddle to find the right child care centre for your family.
---
---
Easy Paper Mache Ideas for Kids