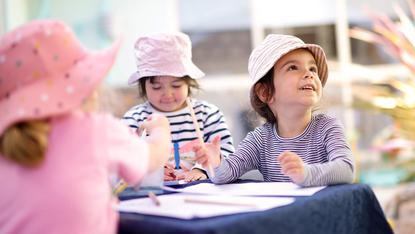 Making craft with children is a valuable way to keep them entertained, while also an opportunity for them to practice fine motor skills, artistic expression and patience. The end results are also a lovely surprise, as kids are innately creative and find ways to bring their unique personality and style to everything they create. Paper can be a great way to get crafting, as it's usually inexpensive and readily available, and incredibly versatile and easy to use– and we'll show you how with these easy and effective craft ideas for kids with paper.
Nature sun catcher
This craft project encourages kids to get out in nature and explore their creativity, and it is also a great way to use leftover party food plates.
 What you'll need:
Paper plates
Ribbon
Flowers and leaves
Scissors
Contact paper
Tape
Cut out the centre of the paper plates (you can fold slightly to make them easier to cut), then roughly measure just larger than the inside of the plate onto the contact paper and cut to size. Next, stick the contact paper to the plate, with the sticky side facing up, and then let your kids place their nature finds into the frame created by the plate. They should be able to take pieces off and on the contact paper and move around as they choose where to put them. Once they have finished, staple or tape some ribbon to the inside of your plate, and hang in the window with the sticky side facing the window. As the light comes through the window, all of their nature pieces will be illuminated, bringing the outside world in.
Paper Mache piggy bank
Paper mache is the ultimate paper craft, because it incorporates so many elements of craft fun- ripping, cutting, gluing and painting! Find out how to make paper mache paste here, then try making this piggy bank.
What you'll need:
Balloon
Egg carton
Newspaper
Paintbrush
Paper mache paste
Masking tape
Scissors and Stanley knife
Bottle cork
To start, follow the beginning of the method for making a paper mache pinata, but when you blow up the balloon only inflate it to the size you want your piggy bank to be. Before applying the newspaper, cut out five egg carton cups, and tape them in place to look like four legs and a nose. Then apply the newspaper strips according to the pinata instructions until the pig is completely covered, and repeat a couple of times, making sure to dry thoroughly in between (you don't want too many layers as this could take a while to dry). Once the pig is completely dry, cut a coin-sized slit in the top with the Stanley knife, and cut out a hole in the bottom to fit the cork. Paint the pig pink (or your preferred colour), put the cork in the hole and begin your coin collection.
Cards
Making cards is a way for children to get creative and practice fine motor skills and literacy, as well as modelling social courtesy and generosity.
Build up a stash of cards for birthdays, special occasions, and thank-you's, and the person who receives the card will be touched that it is handmade.
What you'll need:
Crayons, paints or pencils for drawing
White A4 paper or craft card, and coloured craft card  
Scissors
Glue
Ask your child what they would like on their card (animals, trees, people, flowers), and help them to cut out the shape in appropriately coloured craft card. Fold the paper in half to form a card, and let your child glue on the cut out shapes, and decorate with painting or drawing. Once they've finished, either help them to write inside the card themselves, or have them dictate as you write their personalised message.
Paper dolls
Children love to play with dolls, and they are a wonderful toy for stimulating imagination and creative play. Creating their own will make these dolls extra special, and they'll have so much fun designing and making clothes and dressing them- this craft is an excellent idea for lasting entertainment.
What you'll need:
Coloured craft paper (one for the colour of their skin, and others for hair and clothes)
Drawing pencils or crayons
Scissors
Trace out the shape of a doll on their skin-tone-coloured card and cut it out, letting your child carefully cut out the pattern if they're capable. Next, get your child to draw the doll's face and hair, and then begin designing clothes.
Help your child to roughly measure how big each piece of clothing needs to be to fit the doll before they use pencils/crayons to design and decorate– you could even create clothing templates to make it easier (or print from online). Add little tabs to each item of clothing so that they can be bent around the doll to stay in place.  Your child can now use their unlimited imagination to continue designing and dressing up their unique doll.
Buzzy bee finger puppets
This is a craft project that will keep kids busy long after it's finished! A good one for older kids to help with careful cutting and gluing, and for younger kids to get involved with drawing and decorating- and all ages will enjoy playing with them once they're finished.
What you'll need:
Yellow craft paper or card
Paper
Black texter
Pencils/crayons
Glue
First you need to fold the yellow craft paper around your child's finger, marking where it meets with a little room for the join. You want the puppet to sit on the upper half of their finger so they can bend it as they play, so cut it to the measured width and length of the top half of their finger. Invite your child to colour the black stripes for the bee's body in texter, or help them by drawing lines for them to fill in. Draw and cut out a pair of wings, and have your child decorate them with pencils/crayons if they wish. Next, cut a small strip of paper and glue it to the top of the inside of your bee body, leaving half sticking out the top (this is the tab where the head will be secured).
Now your child can draw the bee's face, cut it out and stick to the tab to attach to the body, glue on the wings and you're done! You can adapt this design to make almost any animal you can imagine.
These craft activities will keep the kids entertained, and provide ongoing joy for the whole family. Childcare centres are another way to keep your child happily stimulated with fun and educational activities - use Toddle to find and enrol your child in an approved Australian childcare centre in your area today. 
---
---
Craft Ideas For Kids With Paper