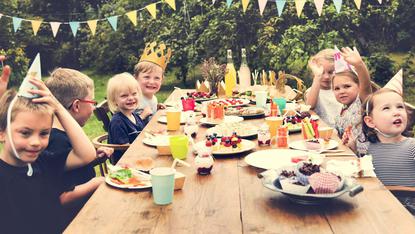 Birthday parties are events that children will remember for many years to come, and often form a significant part of cherished childhood memories. To give your child the best birthday gift, plan a party that will be a day to remember!
If you're stuck for ideas for kids birthday parties, we've got you covered with the essentials: in this article you'll find food and goodie bag ideas, and you can check out game ideas for kids birthday parties here.
Party food ideas for kids parties
You want the food at your party to be delicious, easy to make, easy to eat, and a mix of sweet, savoury, healthy options, and some treats. Here are some ideas for quick party finger food the kids will love, parents will approve of, and that will give them energy to play lots of party games. Here are our favourite food ideas for kids birthday parties:
Fruit kebabs – cut strawberries, kiwifruit and banana into similar-sized chunks, and along with blueberries, stack onto kebab sticks. Drizzle with passionfruit and serve.
Meat and cheese platter – chop kabana sausages into bite sizes, roll slices of ham and salami into mini wraps, cut cubes or sticks of cheese and serve on a platter with crackers.
Monogrammed cupcakes – make some simple cupcakes (find a simple and healthy recipe here), and mark with your child's initial in icing (you can buy icing pens at the supermarket for ease).
Fudgy chia chocolate bliss balls- these tasty chocolate treats are packed with nutrients and energy. Find out how to make them here (healthy afternoon tea ideas article).
Whip up a tray of easy cheese and bacon quiche and serve cut into small squares with dipping sauce.
Kids party goodie bags ideas
Goodie bags are a special addition to any party, and model gratitude and reciprocity. They are also a way to express your child's unique personality and interests, and can hold treasures that will bring your guests fun that will last long after the party is over. There are many ways to go about creating these party bags, and whether you're looking for quick and easy, homemade or bought, these goodie bag ideas for kids birthday parties will help you get started. Pick and choose the elements that suit your child and your available time and resources, to create a personalised goodie bag.
Themed goodie bags
Making a themed goodie bag is a creative way to celebrate your child on their birthday and entertain your guests - simply take your child's favourite thing (colour, animal, toy) and find ways to include it in your bag.
For example, to make a unicorn themed goodie bag, buy a pastel-coloured paper party bag, cut out two ear shapes and a horn shape from craft card of a similar or matching colour, then draw eyes and nose in black texter on the front of the bag. Then tape the horn and ears to the inside of the front of the bag, so that they stick out the top over the eyes and nose. Inside the bag include colourful streamers that can double as a unicorn tail, a fairy wand, bubble blowers for a magical rainbow effect, unicorn stickers and a small model unicorn toy.
Little gardeners
Kids love helping out in the garden, and this 'goodie pot' will keep them entertained, teach them about gardening and looking after plants, and they can enjoy the results of their efforts when the seeds grow. To make these unique goodie pots, buy the required number of small, inexpensive terracotta pots (you can also use plastic if you prefer or can't find these), and fill with:
Seed packets (mixed flowers are beautiful, and radishes come up within 4 weeks so can be seen quickly!)
Plastic scoop for digging
Flower or plant themed stickers
Flower hairclips
Fun assortment
 A super quick, but equally effective option, is to fill a little party bag with an assortment of these tried and tested toddler favourites. Buy or make small party bags, and fill with some of these ideas:
Bubble blower
Colourful Play-Doh
Stickers
Crayons
Fancy straws
Hair clips
Tasty treats – a little box of sultanas, gold chocolate coins, yoghurt covered apricot balls, fruit roll-up,
Mini notepad and a fun pen/pencil
With these winning kids birthday party ideas, and the addition of some amazing party games, you will have all the elements for a successful and easily accomplished party that your child will cherish for years to come.
To help nurture your child as they grow from birthday to birthday search toodle.com.au, the largest childcare centre search database, for a childcare centre that meets all of your requirements. 
---
---
Ideas for Kids Birthday Parties - Food and Goodie Bags