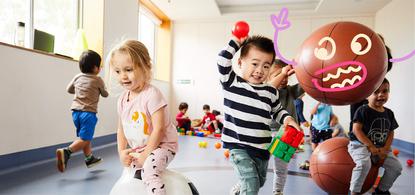 Australian families using child care are set to benefit, according to the government's budget announcement last night. By increasing its investment in the child care sector by $1.7 billion, the government is seeking to make child care more affordable by reducing out of pocket expenses for some families, which will in turn increase workforce participation by parents.  
It's also planning to spend $1.6 billion to guarantee Commonwealth funding for preschool for four years. This new funding agreement will be negotiated with the States and Territories and will support access to at least 15 hours of a quality preschool program each week for a child in the year before they start school.
They have also allocated funding to establish a new Early Childhood Program that focuses on disability. This program will offer information, workshops and supported playgroups for children aged eight years and under with disability or developmental needs.
From 1 July 2022, assuming it passes legislation, the following changes will apply to child care affordability. See if your family is set to benefit. 
How is the government changing child care?
The government says that the changes will 'Deliberately target low and middle income earners, with around half the families set to benefit having a household income under $130,000.'
Families with two or more young children in child care are the focus, along with higher income earners. The government plans to:
Increase the Child Care Subsidy (CCS) for families earning under $353,680 (in 2020-2021) who also have more than one child under the age of six in child care, and
Remove the annual cap, so that families earning more than $189,390 will no longer have an annual CSS cap of $10,560 per child per financial year. 
For families with two or more young children in care, the costs are often prohibitive. The changes will mean that instead of applying the same CCS subsidy rate to all the children in a family (anywhere between zero and 85 per cent), they're increasing the CCS subsidy by 30 per cent (capped at 95 per cent) for a family's second and subsequent children, as long as they're under six and in child care. 
In practice, this means that if a family's first child is eligible for a 65 per cent subsidy, and their sibling enters care at the same time, the second child will benefit from a 95 per cent subsidy. If the legislation passes, the changes will assist families with the cost of approved centre-based care and family day care, but won't apply to In Home Care sessions, as this is subsidised per family rather than per child.  
How much can families expect to save?
According to the government announcement, 'Half of Australian families will receive a 95 per cent subsidy for their second and subsequent children,' and the increase in CCS will benefit around 250,000 families, saving an average of $2,260 per year. 
The government has provided the following table to help explain how the changes might affect you based on your family's income level, based on an average hourly centre-based day care rate of $10.40 per hour for a 10-hour session. 
How will removal of the annual cap save families money? 
In the current system, higher income earners pay full fees when they reach the $10,560 cap towards the end of the financial year, but removing this cap frees up families to work more, earn more, and pay less for their child care. The government explains that around 18,000 families will benefit from the removal of the cap. 
What does the government hope to achieve with the changes to child care?
Treasurer Josh Frydenberg explains that the government's investment in child care, 'Simultaneously makes child care more affordable, increases workforce participation and boosts the Australian economy by up to $1.5 billion per year.' 
Workforce participation is an issue presently, as for some families it doesn't make financial sense for the second income earner to work more than three or four days per week. 
The child care changes will seek to lower the 'structural disincentive to take on an additional day or two of work for many families.' 
Essentially from July 2022, it may make more financial sense for a parent to work a fifth day. Minister for Women, Marise Payne, says 'Increasing the Child Care Subsidy is an important measure that will help reduce the disincentives for women to participate in the workforce to the full extent they choose,' enabling them to:
Return to work sooner
Progress their careers and pay grade, and
Contribute to the economy.
Removing the annual cap encourages parents to work more, with the government saying its child care investment, 'Will add up to 300,000 hours of work per week which would allow the equivalent of around 40,000 individuals to work an extra day per week and boost the level of GDP [gross domestic product] by up to $1.5 billion per year.' 
With almost one million families using child care in Australia, these changes are very welcome in the bid to make child care more affordable for some families. If you need to find child care for your little one, Toddle can help. With every child care centre in Australia in one place, we can make it easier to find the perfect centre for your family. Simply enter your postcode in the search box at the top of the page to begin.
Sources:  
Department of Education, Skills and Employment
---
---
Government announces changes to child care costs for families