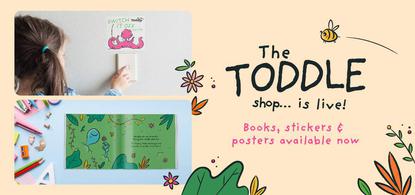 As Australia's most trusted child care comparison site, Toddle is committed to a more sustainable future. As part of our Go Green campaign, we have launched an adorable storybook, delivered a stunning animation with celebrity narration (thanks Erin Molan!) and now we want to let you know what else we've been working on.
Toddle Announcement
As of today, the Toddle Shop is officially open! At the Toddle Shop, you can buy your very own copy of the Go Green with Morph storybook, as well as stickers and posters that help spread the 'green' message far and wide.
In line with our sustainability message, all of the products are sourced from eco-friendly suppliers. That means recycled paper and card, eco-friendly glue and ink, and biodegradable materials that will break down when they're no longer in use.
Raising money for a good cause
Toddle is proud of our partnership with Millennium Kids - a not-for-profit organisation that helps schools and community groups collaborate on projects that help the environment. 
Everything that we sell in the Toddle Shop raises valuable funds for this charity. So you can give back, while getting your hands on some cool eco-friendly loot!
What's in the Toddle Shop?
In the shop, you can find products including: 
Go Green with Morph storybook, a children's book packed with colour and engaging rhyme that teaches little ones how their actions can play a part in a greener future. You can view a digital copy of the book here.
Go Green stickers in 6 gorgeous designs, with helpful messages to remind children to turn off lights, not to waste water, and to throw rubbish in the bin.
Go Green posters in 6 different designs, which children can colour in, to help them take on these sustainability messages.
Visit the Toddle Shop here and support our charity partner, Millennium Kids, today! 
Need to find child care?
With every child care centre in Australia on our comparison site, Toddle can help to make finding child care easier. All the information you need is presented in an unbiased way, including ratings, reviews, testimonials, fees, current availability, photos and videos, tour booking enquiries, and more. And it's free to use, no catches.
Start your search for child care here with Australia's most trusted child care comparison site, Toddle.
---
---
These adorable stickers and posters help support a greener future