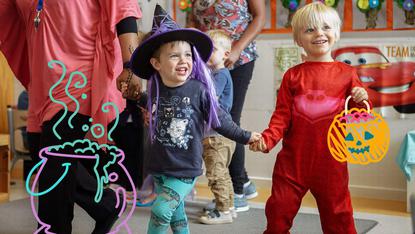 Halloween is a favourite holiday on the calendar for many families, and for good reason- with dress ups, treats and fun games, it really has all the elements of a fabulous party.
Traditionally people celebrate Halloween by 'trick-or-treating' and playing games, eating delicious foods and treats and dressing up. Depending on where you live and your personal family preferences, you can either dress up and go trick-or-treating in your neighbourhood, or turn your house into a mini neighbourhood: decorate each room with a Halloween theme and number the door, so that the kids can knock on each door and be surprised by games and treats on the other side.
As well as the usual chocolate and lolly treats, you can make Halloween themed goodies such as cake pop 'eyeballs on sticks', and chocolate brownie 'coffins' (Pinterest has plenty of excellent ideas). Just make sure whatever you plan, it's appropriate for your child's age-level, as kids can find Halloween themes frightening and each child has a different level of sensitivity.
Whether trick-or-treating in your neighbourhood or your house, get into theme with some of these Halloween costume ideas for kids, and celebrate this fun day as a family in style.
Witch costume
Dressing as a witch (or wizard- this costume can easily be adapted) is a classic Halloween costume that is suitable for all age groups.
What you'll need:
Large black t-shirt or dress
Ripped cloth or twine for belt
Long boots
Witches hat
Broom
Wig (optional)
Makeup (optional)
Simply put the oversized t-shirt or dress on your child, tie the belt around their waist, and put on the boots and witches hat. Use a twig-style broom, or make one by finding a long stick and tying brush to one end, to complete the look. To enhance this costume even further, apply witchy makeup or face paint and a long black wig.
Cat costume
This costume goes well with the witch costume, and is very easy to make – you'll likely have most of the items at home.
What you'll need:
Tight black long sleeve top and tights
Black boots
Black pipe cleaners
Black craft feather boa
Face paint or makeup
To make the headpiece, either use a horseshoe-shaped headband, or bend a large black pipe cleaner into a horseshoe shape. To make the ears, bend the middle of the pipe cleaner into a slightly rounded triangle, and wind the leftover lengths around the headband to secure in place. Then simply dress your child in the clothes, secure the feather boa to the back of their tights to form a tail, and paint on a cat face: blacken the tip of their nose, and paint a black circle with three whiskers on each cheek.
Where's Waldo
Your child and their friends and family will have fun playing hide and seek with this costume- recreate Waldo's look with this outfit made up of items that you probably already have at home.
Here's what you'll need:
Stripey red and white jumper or long sleeve top
Stripey white and red beanie
Glasses – if you don't wear them normally, make frames out of pipe cleaner or craft wire
Backpack
Dark pants/jeans
Boots
Put this outfit on your child, and they're ready to go! For an extra touch, print a map and roll it up, and cut out a printed picture of a camera, and hang these to the backpack.
Wild thing
Turn your little one into Max from 'Where the Wild Things Are' with this easy costume. You might just need a couple of items from the craft store, but it's an achievable Halloween costume to try, and particularly adorable for babies.
What you'll need:
White romper suit
Craft boa for tail (preferably brown, grey or black)
Strip of fake fur (to match colour of boa).
Gold felt and strip of fur (for crown)
Craft glue
To make the crown, measure your child's head and cut out a thick strip of the yellow felt,  adding a few centimetres for the join. Cut out a jagged crown pattern on the felt strip, and glue a line of fake fur along the bottom. Glue or sew the two ends together to form the crown, and it's finished! Make a slit in the onesie at the back and thread the craft boa through and secure with tape (or sew in place) to make a tail. If you don't wish to cut the onesie, you can sew a popper on so that the tail clips into place.
With these Halloween ideas for kids, take the pressure off buying a costume by making your own, and create a magical and fun holiday for the whole family.
To take the stress out of finding a childcare centre near you that fits all your requirements, use Toddle to search for an approved childcare centre in your area.   
---
---