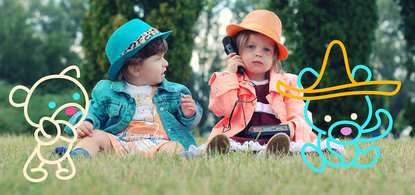 When your toddler or pre-schooler starts at a new child care centre, it's only natural for them to take some time to settle in.
But a sure-fire way to help get them excited about attending is by encouraging friendships to develop with other children at the centre. There's nothing more motivating than knowing that their friend is going to be at child care for them to play with.
Toddle spoke to Shakira McKeown, the Centre Manager from Nino Early Learning Adventures Preston about this topic. 
Does having a friend at child care makes it easier for children to settle into their day?
'Knowing another child or educator when starting at a new centre can be of a benefit to the child,' shares Shakira. 'However, every child is an individual, so there isn't a "one size fits all" approach or expectation to settling in.
Some children, just like adults, may find nothing but joy and excitement in brand new faces, places and experiences. Whereas some, just like adults, may find it very overwhelming. 
Children will display their anxiety and stress in different ways, and our educators respond to the child, and follow their cues to support them through their settling in process, however long that may be.'
How does a child care centre facilitate the development of friendships between young children?
'True friendships develop in the mid-late Early Years,' explains Shakira. 'Prior to this, we are supporting the development of respectful, and reciprocal relationships between our children. 
This can be through: 
role modelling
supporting interactions between children
exploring emotions and feelings 
This will assist the children to develop empathy for the people they're interacting with. 
Providing opportunities for children to work together to achieve common goals is a great way to lay a foundation for a friendship. 
If we see children are struggling to develop relationships within the classroom, we may plan for experiences relating to their special interests, where they can be the leader in the experience, as this will support their confidence in interacting with others.'
'Providing opportunities for children to work together to achieve common goals is also a great way to lay a foundation for a friendship.'
Can children's friendships benefit the parents too?
'We will always mention to families if special friendships do start to develop, and if both parties are interested we will support the connecting of the two families,' shares Shakira. 
'Parents enjoy the opportunity to meet and interact with other parents, particularly if they are new to the area. Along with supporting the development of their children's friendships.'
Do friendships from child care continue on once they leave?
'From our 2019 graduating class, we had several children go to the same Primary School, and their friendship has continued to grow and develop,' explains Shakira.  
'There is also a group who are part of the same sports team, so through siblings still attending the centre, we get regular updates on our graduates.'
What is the value of friendships for little ones at child care?
'People have different ways of seeing the world, so may see something that we don't,' explains Shakira. 'Just like adults, gaining another person's perspective, or sharing thoughts and ideas about a subject can only enrich the experience and learning. 
Again, children learn in different ways, so it is important that they have a variety of ways to access information and skills. For example, watching a classmate attempt a task may be a greater learning opportunity than an educator explaining or role modelling.'
For parents, being able to remind their child that they'll get to see their friends at child care is one of the best ways to motivate them to get their shoes on in the morning!
Find out more about Nino Early Learning Adventures Preston or discover child care near you with Toddle.
---
---
How child care educators help children settle in by forming friendships