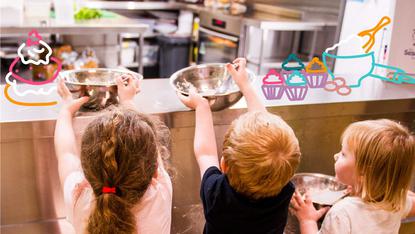 Although us adults get excited about entrees and mains, desserts are the drawcard for young diners. 
Cakes, biscuits, slices and frozen treats get little tastebuds buzzing, and in moderation, dessert recipes for kids aren't all bad. 
Making a healthy dessert or special treat inspires your mini-chef to be curious, creative, independent and giving. There's an educational element when your child researches recipes, measures ingredients and handles utensils. 
Plus, cooking is a key life skill that incorporates good hygiene, time management, risk awareness, decision-making, and social etiquette. 
In time, your pint-sized pastry chef can move from sweet to savoury, but for now, desserts give you a taste of their new skill set and allow you to relax your role in the kitchen. 
Between the ages of eight and 11, your kiddo is capable of following a simple recipe with more independence and less supervision. You still need to watch for hazards like hot ovens and sharp knives, but here are three easy dessert recipes for kids to make pretty much solo. 
This means no baking, just partaking! 
Kid-made parfait
'Parfait' means 'perfect' in French, and this layered dessert is a lovely blend of colour, flavour and creativity. 
The ingredients are flexible, depending on your child's tastes, but they'll need something crunchy, creamy, fruity and saucy, and a theme (like choc-raspberry) to pull it all together. 
This dessert is made in parfait glasses, or tall tumblers, that show off the ingredients, layer-upon-layer. 
Suggested ingredients
Cornflakes or toasted fruit-free muesli
Softened ice-cream, frozen yoghurt or fruit yoghurt
Chocolate, caramel or berry sauce
Bite-sized fresh fruit, like raspberries and blueberries
Thick cream
Crumbled biscuits, like Granita or choc-chip cookies
Sprinkles
Method
To assemble this dessert, your kiddo starts by spooning some cornflakes or muesli into each glass. 
A layer of ice-cream or yoghurt is added, with sweet sauce squeezed on top.
A layer of fresh fruit comes next, then a layer of cream (or more ice-cream or yoghurt), with another drizzle of sweet sauce.
The parfait is finished with a layer of cream and a dusting of biscuit crumbs, sprinkles and a berry on top. It's served with a long-handled spoon for digging deep. 
Strawberry ice-cream
If you're looking for easy dessert recipes for kids with few ingredients, look no further. This three-gredient delight relies on ripe strawberries and sugary creaminess.
Ingredients
400g strawberries
250g mascarpone
200g sweetened condensed milk (one tube)
Method
Your child needs to hull the strawberries, and if they're not super soft, cut them in halves or quarters with a butter knife. 
Next, the berries get tipped into a flat-bottomed dish. They're crushed with a potato masher (you might need to help with this), then poured into a bowl and mashed with the mascarpone. 
Condensed milk is added, and everything is stirred together (your tyke shouldn't worry if the mix is streaky pink or a little lumpy). 
The mix is spooned into a freezer-proof box (metal or plastic) and frozen for at least six hours. To stop the ice-cream becoming too icy, your child can stir it with a metal fork every hour, for three or four hours, to break up the crystals, then leave it to set. 
This dessert can be scooped into bowls or cones and served as is, or decorated with whatever takes your kiddo's fancy – sprinkles, nuts, chocolate sauce or a sprig of mint. 
Dessert pizza
This recipe adds a half-healthy, slightly Italian flavour to the menu, with fruit and choc on a whole meal base. 
Ingredients
1 whole meal tortilla (approx. 20cm across)
2 or 3 tablespoons Nutella
3 or 4 strawberries
½ banana
½ kiwi fruit
Method
Using a butter knife, your kiddo hulls and slices the strawberries, then peels and slices the banana and kiwi fruit.
Nutella is spread all over the tortilla, with the fruit arranged on top.  
The pizza is cut into quarters (you might need to help with this), then served! 
All of these dishes are fruit-driven, but if you're wanting more healthy dessert recipes for kids you can switch the Nutella for cream cheese, or challenge your mini-chef to make a rainbow fruit salad with easy-to-cut ingredients.
At child care, fresh and savoury delights are served to nourish your tyke's body and brain. To find a centre that cares about good food and great learning experiences, search Toddle. 
---
---
Easy Dessert Recipes for Kids