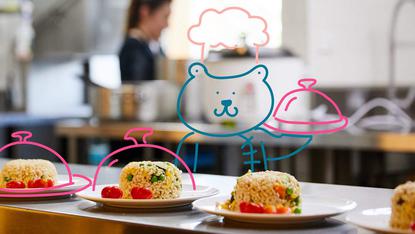 As all childcare workers are aware, nutrition forms a significant foundation for growing children. It gives children the energy they need to play and learn, and a balanced, well-rounded diet provides all the nutrients necessary for the rapid physical and cognitive development that takes place in those early years. Modelling healthy food choices by providing nutritious (but tasty!) options also sets the groundwork for children's lifelong relationship with food (which you can read more about here). Parents are increasingly health conscious, so boost your appeal by offering freshly prepared, healthy food at your childcare centre. It's equally important to ensure food is prepared safely, so check out this article for tips on how to make sure your centre is following best hygiene practices.  
When planning food for children in childcare, it's helpful to aim to provide protein, healthy fat, carbohydrates and a serving of veggies or fruit with every meal. While this may be true, the nature of busy childcare centres is such that food also needs to be made efficiently, easily and in large quantities to get healthy food into many children's tummies quickly with minimal fuss. Meeting all these goals sounds difficult, but it's easier than you would imagine - we will help you see how with these childcare centre recipes.
Savoury muffin recipe
These savoury muffins are an easy and delicious snack or meal, that hold all the desired nutrients in one appealing package. This recipe is for 12 muffins, so just double the batch if you've got a large group of kids, and freeze to make things even easier.
Ingredients
2 cups plain flour (you can also use wholemeal for added nutritional value)
3 tsp. baking powder
2 eggs
1 cup milk
1/3 cup olive oil
1 carrot
1 zucchini
½ onion
1 ¼ cup grated cheese
1 tsp. garlic powder
Pinch of salt
Method
Preheat your oven to 180 degrees C. and grease a 12 cup muffin tray
Grate the zucchini, carrot and onion (use a food processor if available) and place on paper towel to absorb excess moisture. Grate the cheese.
Mix the flour, baking powder, garlic powder and salt in a large bowl until evenly combined
In a separate bowl, whisk the eggs, oil and milk.
Combine the contents of both bowls, and mix in the vegetables and 1 cup of the grated cheese.
Spoon the batter into the muffin cups, and sprinkle the remaining cheese over each muffin.
Bake for 20-25 minutes, until golden brown
Cool and enjoy! Serve with fruit to round out the meal.  
Chicken and salad wraps
Wrapping vegetables and protein in an interesting parcel makes for a fun way to get nutrients into the kids. These wraps are fast and delicious, and served with a fruit portion they make up a complete meal.
Ingredients
Wholemeal wheat wraps, salt reduced  
Lettuce, thinly sliced
Carrot, grated
Tomato, thinly sliced
Cucumber, halved and sliced
Cheese, grated
Roast chicken or baked chicken fillets cut into strips
Tzatziki dip (shop bought, or make by simply combining 1 small grated cucumber, 1 cup of plain natural yoghurt and one crushed garlic clove).
Method
Prepare a large clean surface area, and lay out the wraps. Place two chicken strips on each wrap, and top with vegies and grated cheese. Fold the bottom of the wrap up before rolling to prevent ingredients from falling out when picked up.
Serve with a dollop of tzatziki that the children can dip their wraps into.
Vege soup and bread rolls
Soup is a hearty, delicious and compelling way to eat vegetables, as they are soft and flavoured with the soup broth. This soup can be frozen, so make big batches for quick, easy and nutritious meals. This recipe serves 12, double or triple as required.
Ingredients
1 tbsp. olive oil
1 medium onion
2 cloves of garlic, crushed
4 carrots, diced
4 stalks of celery, diced
4 medium potatoes, diced
2 ltrs reduced-salt vegetable stock
420g. soup mix or dried kidney beans
2 x 400g can reduced salt crushed tomatoes
200g mini pasta shells
Parmesan cheese, to serve
12 wholemeal bread rolls, cut in half and buttered
Method
Heat the oil in a large soup pot, then fry the onion, celery and carrot until fragrant and onion translucent.
Add garlic and potato, and cook for another 5 minutes, stirring to ensure nothing sticks to the bottom of the pot.
Add the stock, soup mix/kidney beans and crushed tomato, and bring to a boil.
Reduce heat and simmer uncovered for 90 minutes, or until legumes are tender.
Increase the heat to high and add the pasta, and boil for another 15 minutes until pasta is cooked.
Serve with a sprinkle of parmesan cheese and the wholemeal bread rolls.
Creamy tuna pasta bake
Fish is an incredibly valuable source of good fats, and has been called a 'brain-food' because of its high concentration of Omega-3. To encourage children to eat this healthy part of a balanced diet, this creamy tuna pasta bake will appeal to even the most delicate taste buds. This recipe makes 12 serves, so double as required.
Ingredients 
3 cups uncooked penne pasta
2 cups of broccoli, roughly chopped (fresh or frozen)
400g frozen or canned corn kernels
6 carrots, diced
100ml water
2x185ml milk (long-life or fresh)
1 tsp. cornflour
2 x 425g tuna canned in spring water
Method
Cook pasta as per packet instructions. If using frozen broccoli and corn, add to the boiling pasta 5 minutes prior to completion. Drain and set aside.
Cover carrot in the water and bring to a boil, simmering over low heat until tender.
Add milk and cornflour to the carrots and water, stir and bring to a boil. 
Add drained tuna to this sauce, and simmer for 2 minutes.
Combine sauce, pasta, broccoli and corn.
Serve immediately.
Keeping children satisfied with healthy, nutritious food is best for their growth and development, and best for you as it makes for a smooth-running, happy childcare centre. So get cooking with these simple but nutritious childcare centre recipes, and watch the children flourish.
Another way to help your centre flourish is by signing up to toddle.com.au, the largest childcare provider database in Australia, where your centre can easily be found by prospective families. 
---
---
Simple & Healthy Recipes for Child Care Centres