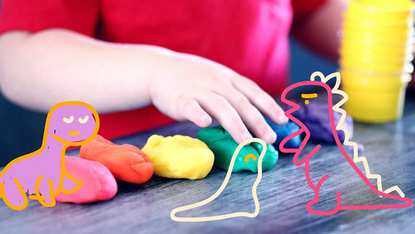 Easter is a lovely time to spend with the family, where you can enjoy fun, games, surprises (and of course chocolate). So it's no wonder it is a favourite time for children!
This Easter you can keep the little ones entertained at home by busting out the paint, glitter and coloured pencils. Together, you can make some festive Easter crafts for kids that can be used seasons over to decorate the home.
We all know most store-bought Easter crafts for kids are usually too complicated or time-consuming for little ones aged under six, whose patience and precision skills are still developing. So we have collated five simple craft ideas for the little ones (and their parents) to enjoy; Easter craft with kids can be a fun way to teach your kids about the meaning and magic of Easter!
1. Playdough Easter Eggs in Baskets
One of the simplest Easter crafts is the playdough Easter Eggs in Baskets. All you need is playdough in all colours for the eggs, and a bulk amount of brown to make the baskets. It is helpful to make one first to show the children, but let them get creative and make their own style. This is a great way to encourage imaginative play and motor skills. Try our simple playdough recipe here.
2. Easy Easter Egg Garland
The Easy Easter Egg Garland is one of the easiest decorations to make with smaller children, simply collect 10 pages of blank A4 paper and draw an egg shape on each one. Cut out the egg shape and punch a hole for string to pass through at the top centre of each egg. The fun part of this activity is decorating. You can draw or paint patterns or simply go crazy with colour and glitter, which makes it a wonderful activity for toddlers and smaller children. Once the masterpieces have been completed, allow the eggs to dry if painted and seal with a quick spray of hairspray. Thread the string through the holes and hang in the home for all to see and admire!
3. Cotton Wool Bunny Face
Another extremely fun and easy craft for smaller children to participate in is The Cotton Wool Bunny Face - a favourite with little ones who enjoy the soft feel of the cotton wool. The first step is very simple, on an A4 piece of paper draw a large bunny face with features such as eyes, nose, smile and whiskers, get the children to sit down and colour in their Bunny Faces using pencils, crayons or textas and once complete, allow the children to use cotton wool balls and glue to stick the soft cotton wool balls on their bunnies to make him feel real and lifelike. This can also be done using two paper plates - use one as the face and cut the other in half to use as the ears.
4. Eggs in Dye
If you have ever celebrated Greek Orthodox Easter you are most likely familiar with Dyed Eggs; simply hard boil up some chicken eggs, allow to cool completely (you can speed this part up by running under cold water) and then mix half a cup of boiling water, one teaspoon of white vinegar and around 15 drops of the food colouring of your choice in a mixing bowl. Soak eggs in the mixing bowl for  5 - 10 mins and remove using a slotted spoon or kitchen tongs and put aside and allow them to dry. The result will be stained shells of amazing colours. Once dried you can decorate with glitter glue if you like for an extra sparkle of Easter magic.
5. Easter Bonnets
Part of Australian culture has been the Easter Bonnet, or Easter Hat Parade held within child care centres and schools each year at Easter time. The children gather together with decorations, cardboard, hat templates and little yellow chicks to create the most beautiful Easter Masterpiece they can think of and then proudly wear it whilst parading for the student body, staff and parents who attend the event. It is one of the most exciting Easter crafts and it is so simple as it is built to the individual's preference. There are no wrong ideas and each piece is as unique as the children themselves.
Easter Craft Options Are Endless
When it comes to Easter Craft for kids the options are endless. As long as you have some paint, glitter and paper or cardboard you can create so many colourful Easter crafts that will fill your home with colour and magic. You could try using paper mache on balloons to make giant 3D Easter eggs for the kids to paint and decorate or hang from the ceiling as a centrepiece. Or you could make paper daisies to hang on a garland similar to the Easter Egg Garland mentioned above. You can even get into the kitchen and make some edible Easter crafts for kids like pancakes in the shape of a bunny.
There are so many ideas to suit all ages and beliefs when it comes to Easter Craft ideas for kids, let your imagination run wild with Easter magic and get crafting.
Want to WIN a $100 Godiva chocolate voucher, thanks to Toddle? Click here for more information.
If you need to find child care for your little one, let Toddle make it easier.  Find, compare, shortlist and enquire with child care centres near you. With Toddle, all the information is there in one place. Enter your postcode in the search bar at the top of the page to get started.
---
---
5 Simple & Fun Easter Craft Ideas for Kids