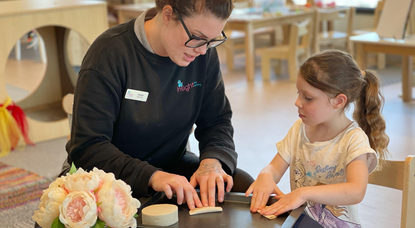 The educators at Insight Early Learning Centres know how important it is to celebrate diversity in their communities. That's why this week the children will be enjoying some cooking experiences with this fantastic child-friendly recipe, to celebrate Chinese New Year on February 12th 2021.
Why not try these at home with your child? They're a fun recipe to get little ones to help with. Not to mention delicious! You can buy wonton wrappers in the chilled section of most supermarkets.
Ingredients (makes 20)
20 wonton wrappers
200g chicken mince
100g water chestnuts
2 sliced spring onions
1 finely chopped garlic clove
1 tsp freshly chopped ginger
1 tsp soy sauce
1 tsp rice wine vinegar
1 tsp freshly squeezed lime juice
2 tbsp finely chopped coriander
Method
Lay the wonton wrappers out on a lightly floured surface.
Mix the dumpling ingredients in a large bowl, and then place a teaspoon of the mixture in the centre of each wonton wrapper.
Bring two opposite corners together and pinch to seal them with wet hands, then repeat with the other corners. Press the wontons together tightly to ensure there is no extra air inside.
Place a large pot of water on high heat and bring to the boil.
Line bamboo steamers with baking paper then fill with as many dumplings as you can comfortably fit. Steam for 10 minutes or until the chicken is cooked through - it's a good idea to open one up and test it first before you take the rest off the heat.
Find out more about Insight Early Learning Centres here: 
Insight Early Learning Port Coogee
Insight Early Learning Kelmscott
Insight Early Learning Joondalup
Insight Early Learning - Burwood Brickworks
If you need to find child care for your little one, let Toddle help. With every Australian child care centre all in one place, Toddle can help you find the centre that's just right for you. Enter your postcode in the search box at the top of the page to get started.
---
---
Celebrate Chinese New Year with this tasty chicken dumpling recipe