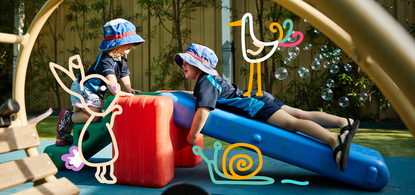 There are many reasons why you might consider using child care when you're not currently working. You may be between jobs, you may be on maternity leave, studying, volunteering, a single parent, caring for relatives, or you might have a few small people at home with you.
Monique is a child care director and mother of three. 'As parents we give so much, and find it hard to take what we need,' she explains. 'I believe that using child care when you're not working, even if it's just a few hours a week, can be so beneficial. 
For the kids they're getting the social skills and interacting with other children. For mum, she's building new friendships, reducing isolation and getting some time to do what she needs to do to recharge her batteries.'
Social skills
Children learn through playing with other children, and child care is a perfect way to improve their social skills. 
They'll learn to share, take turns, listen to instructions – all great skills that they will need when they start school.
Learning to play independently
Kids love to play, play, play and that's not always possible when you're a parent at home. Child care gives kids the opportunities to run off that energy in an environment that caters to their love of playtime. 
The children learn to play without an adult constantly directing them or showing them how to play. This is a valuable life skill that your child will be able to use when they're at home. 
You'll be able to set them up with an activity and leave them to it, rather than having to be part of it every time (unless you want to of course).
Keeping your spot for when you need it
Belinda knew she was going back to work when the maternity leave for her second baby finished, so there was no way she was going to give up her eldest son's spot at child care. 
'I didn't want to lose the spot as I knew I would need it when I went back to work,' she explained. 
'So even though I wasn't working, he still went along to child care which worked really well for us in the end.'
Accepting a child care spot before you need it
Child care director Monique explains, 'Sometimes you'll need to start using child care early, if you know you need child care in the future. 
In Australia most centres offer their places late in the year for the following year. You might not need a spot until May but if you get offered one in February, even if it's just one day at first, it's probably a good idea to take it so that you get in. 
From there it's much easier to build up to the two or three days that you need in May. Centres tend to offer extra days to parents who already have their child attending the centre.
It's not often that a centre would suddenly have two or three days per week available for you in the middle of the year.'
Time out for parents 
Belinda made the most of the time that her eldest son was in child care. 
'Having him taken care of a few days a week meant I could bond with my baby, catch up on some sleep and errands, and my older son had a great day playing with his friends,' she said. 'He was happy to go.'
If you're a single parent, child care may be one of the few breaks from the demands of child-rearing that you get. 
The value of respite time cannot be understated, and even if it doesn't make sense financially to use child care when you're a single parent, it can still be a good option to help support your own mental health.
If you're looking for child care centres with availability right now, visit Toddle and enter your suburb name. From there you'll be able to see the centres, read reviews, watch videos, and read more details about each one. Toddle makes the search for child care easier.
---
---
Should I consider child care even if I'm not working?