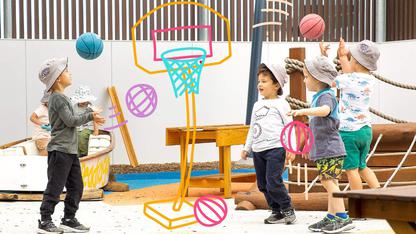 As a provider offering after school care, it is important to ensure you offer a range of activities that are engaging, age-appropriate and capture children's interest whilst supporting their development and being fun. You can easily incorporate sporting and exercise activities into your after school care activity plan, along with music, art and imaginative play, and by using ideas from the lists below, ensuring you create entertaining and fun-filled after school care activities.
Activities for Preschool-Aged Children
When it comes to entertaining Kinder aged children after a day of school, simple is best. Engage them with simple and fun activities such as simple arts and crafts, music play or outdoor time exercising or playing in a mud kitchen or sandpit. Below you can find a list of age-appropriate after school care activities suitable for Kinder aged children:
1. Dinner Plate Art
Dinner Plate Art is a simple and fun activity for Kinder aged kids and an easy after school care activity. Simply draw a large round circle on an A4 page of white paper with a thick, black marker and add cutlery to the side to complete the table setting, do as many as needed or digitally copy for a bulk amount. Get the children attending after school care to draw their favourite dinner meal on the hand-drawn plates, label them and colour them in. Laminate once complete, and give them as a placemat to the children to take home.
2. Paper Cup Phones
Good old fashioned fun, Paper Cup Phones have been keeping children busy and bursting with joy for generations, and it is a fantastic addition to any centres after school care activities for Kinder aged kids. All you will need is a few packets of Styrofoam Cups, some twine or string and some tape. Using the small point on a pen carefully poke a hole into the centre of the bottom of each cup, cut the string into 1.5m long strands and thread the string through the hole in the bottom of a cup, push the string through the bottom until it is halfway up the inside of the cup. Push to the sidewall of the cup and carefully fasten with tape to secure the string; Do the same on the opposite end of the string with another cup. They should resemble two telephone earpieces with the string representing the telephone wire. Once completed, hand them out and let the children play with them, get them to stand around corners or hide under tables and whisper and see if the other person on the "telephone" can hear them.
3. Recycling Fun
Encouraging recycling is never a bad idea, and when it can be turned into a fun activity like building a robot or musical instruments, it becomes one of the cost-effective and fun after school care activities on offer to providers! The hardest part is collecting enough recyclable materials; Firstly put an appeal out to the parents and caregivers for clean, recyclable materials that can be used for Kinder craft activities, aim to stay away from glass jars for this age group.
Activities for Primary Aged Children
For children in this age group, you are able to incorporate slightly more articulated activities such as board games, card making and group building activities.
1. Board Games
Both educational and fun, board games such as Scrabble, Trouble, Mouse Trap, etc build logic skills and kids will also have fun and broaden social skills in a friendly competitive manner. You can make an appeal to parents and/or caregivers for donations of card and board games, or pick them up rather cheap at your local department store. Create a space for the board games to be played by ensuring a table or two has been dedicated in a quiet spot with a stack of games and cards available to be played, some children will need a hand learning to play and others will have already learnt at home, a great opportunity for team style play by pairing them up into teams of "Does know how to play" & "needs to learn how to play" to help the children work together and collaborate whilst they also have fun and play.
2. Card Making & other crafts
Children in this age group love being creative via craft and are at a fantastic age to be involved in Cardmaking. Card making is a fun and thoughtful activity that involves lots of paper, card stock, glitter, glue and coloured pencils or textas. Children can make themed cards when appropriate to celebrate occasions such as Easter, Christmas and/or classmates or family members birthdays. Collect all cardboard boxes you might otherwise throw away and cut into card shapes, get the children to use old magazines and collage the printed side of the boxes, if any, in varied colours for another fun card activity.
3. Graffiti Style Artwork
Teens and preteens enjoy street art activities such as graffiti, an activity that can be incorporated into an after school care activity on fine days outside; All you require is some canvas boards or butcher paper, spray paint cans, masking tape and paint masks, smocks and brushes for line work. A great way to introduce the activity into your after school care plan would be to have the children try to 'tag' their names using a light base colour and a darker foreground colour for the names. The finished work can be taken home or hung in the centre to inspire and empower.
So if you ever run out of ideas to entertain a group of kids during their after school care, we hope the above can help keep them entertained. Get in touch with the Toddle team to find out how we're able to help families find you for their after school care needs.
---
---
After School Care Activities - Ideas & List of Activities