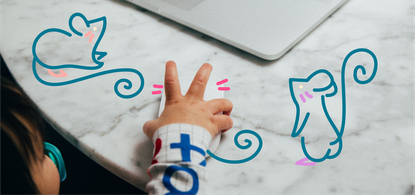 If there's anything that parents have learned from living in lockdown with kids, it's that we're even better at multi-tasking than we thought.
All of a sudden we are some evolving combination of parent, worker, partner and teacher all rolled into one.
Throw in the stress of isolation from relatives and support people (not to mention the lack of toilet paper) and it's easy to see why some parents feel as though they are struggling.
Toddle spoke with parents who are navigating this new normal. As they say, 'the juggle is real!'
'I get so much done during nap time'
If your little one is still having a good nap in the daytime, this can be your time to shine. The washing, cleaning, and cooking can wait. When you've got a window of an hour or two to work, drop everything else and go for it.
This is a great time to make phone calls or focus on the type of creative work that can flow when you're not constantly being asked for crackers.
'We make the most of our free child care days'
As part of the support package announced by the Australian Prime Minister Scott Morrison, working parents are entitled to free child care from their nominated child care centre. 
Many parents are making the most of this and powering through their work on the days their children are being cared for by our much-loved educators at their child care centre. 
If you need to arrange care for your little one, re-enrol them, or if you are an essential worker needing priority child care – visit Toddle where you can find everything you need in the one place.
'I wake up early and work for a few hours in peace'
Many parents need to tag team with their partner to ensure that they can both get their work done. For some, this means one of the adults waking up early and making the most of the quiet hours before the rest of the household wakes. 
This then leaves the other adult to manage breakfast for the kids and dressing them for the day. A quick high five at 9am and the other adult can then start their workday while the first takes over kid duty.
'I'm often on video calls and my children love to make a guest appearance'
We can now see into our colleague's homes thanks to the rise in video meetings. There's no point pretending that you have a calm, serene workspace when really it's covered in dry cereal and coloured pencils. 
Embrace the new reality, and if your children decide to pop in and say hi on your weekly meeting with your boss, welcome then into the frame. We're all in the same boat, and if you make light of it, it can encourage your colleagues to feel less stressed when the same thing inevitably happens to them.
'I work mostly at night once the kids are asleep'
For some parents, getting more than the bare minimum done during daylight hours is a distant dream. That might mean that the bulk of the work gets done after bedtime, when the toys have been packed away and the bouncing balls of energy are asleep for the night. 
This works for some families, so long as you are getting enough sleep too. Don't expect to stay up late and wake up early without feeling the effects of burnout sooner than later.
'I'm working at about 70% capacity'
This is not the time for employers to expect their employees to be super productive. We're all juggling balls in the air, and it's impossible to keep everything going as it was pre-lockdown. Don't beat yourself up if you feel as though you're not able to get everything done that you'd hoped for. 
When in doubt of what to do next, prioritise connection with your family. A well-timed cuddle, squeeze, tickle or story can go a long way to strengthen your relationship with your little one during this tricky time. If you need to arrange care for your little one, jump onto the Toddle child care centre listings to find your ideal child care centre.
---
---
What it's really like working from home with the kids in isolation