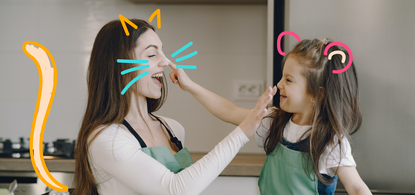 What is an au pair?
An au pair is a young person (normally a woman) who lives in your home and provides child care and light household duties in exchange for room and board, food, bills and a small wage (around $230-350 per week depending on hours and duties). They come from overseas and have a working visa for up to one year. 
They may or may not be experienced in child care, and are often young students looking to immerse themselves in a foreign culture. Some may use the chance to strengthen their English skills.
What are the benefits of hiring an au pair?
Your children can stay at home rather than needing to be taken to a child care centre. This means fewer car trips, more relaxed mornings, and reduced exposure to germs from other kids.
Your child receives personal care from one person, rather than multiple staff at a traditional centre.
The costs are much cheaper than hiring a nanny, and often it's cheaper than child care.
You can get to know a new person, show them around your home town, and introduce your children to someone from a different culture.
Hours of care can be flexible and are arranged up front. This is especially valuable to parents who do shift work, have early starts or late finishes, or whose schedule can change week to week.
Depending on your arrangement with the au pair, you can include expectations such as one night of babysitting per week.
Things to keep in mind if considering an au pair
You need to have a spare room in your home for the au pair. A private bathroom is not necessary.
Your privacy is reduced as you have another adult living in your home. This can change the dynamic between the members of your family, especially you and your partner.
Hiring someone to come and live in your home is a big decision. Most families conduct many interviews, or use an au pair agency to help them. Often it's not possible to meet your au pair in person before committing to their employment contract. References can be valuable but not always possible if this is their first role in child care.
Not all au pairs are interested in working in child care professionally, and may not have loads of experience. Keep this in mind depending on the age of your children, especially if you have babies to be cared for.
What's in it for them?
The au pair gets to live in a family home while they experience life in a foreign country.
There are often opportunities for travel (with or without the host family) and weekends away with friends.
They can immerse themselves in the English language (if they are from a non-English speaking background).
They become independent and can gain valuable life experience.
One family's experience with using an au pair in Australia
Amy chose to hire an au pair when her son was 12 months old and her daughter was three. 
'A good friend of ours had an au pair, and she was explaining all the benefits to me. I had thought that au pairs were just for the wealthy, but she really showed me that it could be great for my family.
I signed up to an au pair website and found a few suitable young women. We shared email addresses, and then had many Skype chats before we found our British au pair. 
She was keen to come and explore Australia and we felt comfortable with her looking after the kids based on our conversations with her and her mother. 
I guess now I can see that it was a big risk to just ask her to come and live with us, but we just had a good feeling about her. It was also a risk for her to come and live with a family she didn't know. Luckily it all worked out!
So I was able to start my new part-time role in a job that I loved. I loved that I could leave everyone at home in their pyjamas and not have to rush them out the door to child care. 
I didn't feel as though I was missing out on too much with the kids. It felt more like a few hours off and then I could come home with my battery recharged, ready to parent again.
I made sure to set clear expectations via a job description, outlining things such as a) that there would be some light housework (like hanging washing), b) we need you to have your license to drive our car, c) you don't need to pick up dog poo!
I had to let go a little bit in terms of my control over the activities that she did with the kids. For instance I might suggest that they could go to the park, but I don't need to tell them which one, they can choose. 
She learned as she went rather than me needing to spell everything out. For instance she knew soon enough that if either child slept past 4pm they would be up late! 
If you are thinking about it, know that au pairs should not be seen as cheap labour. The right one will be worth what you pay her and her value should be reflected in her wage.
For us, having an au pair has been a fantastic experience.'
---
---
What is an au pair and how can they help you with child care?