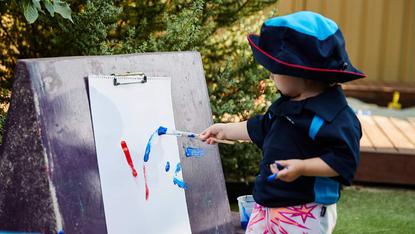 Keeping your four-year-old busy in a non-destructive way can sometimes require some planning. While the concept seems exciting, there are many different kinds of stimulating games on the market. If you know the type of toys and games that will grab the attention of your four-year-old, you will hit the jackpot. Otherwise, it is money and storage space you will never get back. Here's a list of games that will apply the brakes on their energy, and give their minds something fun and engaging to work on.
Educational Toys for 4-Year-Olds
Playing with educational toys doesn't have to be boring. The trick is to find something that looks like dumb fun but isn't entirely just that. Now, game sets that involve many shapes, colours and sizes are the lowest hanging fruits and it's good to cash in on that. Just make sure there are no choking hazard parts and you will be fine. There are some advanced-level toys too. Here are a few ideas to get you started.
1. Set of Magnetic Tiles
There are lots of these 3D sets that are really great for young kids. You can create flat or 3D shapes like buildings using any number of tiles. These games are a nice mix of mathematics, creativity and science too. Typically, you will find sets that come with tens of shapes and in many different colours. Some are translucent while others aren't.
It is a great way to fire up the imagination, keeps them engaged for a long time and most of them are for kids older than three years of age. This means you don't need to dump them within a year. Something all parents hate.
For those parents who want their kids to focus on STEM (science, technology, engineering and mathematics) this is a great starter kit. It also improves their tactile and spatial skills.
You can carry these small sets around for a playdate and in that case, it improves their ability to communicate while playing and adds to their social and team-building skills too. They will also learn to share which is a huge plus point.
Make sure you pick a set that is durable and does not have rough edges and you will have nothing to worry about.
2. Straws and Connector Sets
A lot of kids love building stuff. Game sets like these are the perfect way to build anything from aeroplanes to castles. You are only limited by your creativity, and they're quite easy to use too. All the kids need to do is snap the pieces together. This helps them improve their fine motor skills but also improves dexterity.
Typically, the sets come with a measuring guide. So, as the kids grow, their attention to detail also gets better. The straws can be cut into pieces as and when required when they are dealing with a complex design.
The advantages of these games are fairly obvious. They keep the kids engaged for a long time and are good for team-building exercises too.
3. Interactive Globes
If you are not too worried about screen time, here's a very exciting option. Thanks to the leaps in technology, kids today have games they can play without storage space hassles for you.
You can get them an augmented reality globe to explore. These are interactive globes that contain hundreds of facts about different places, animals, cultures, food and whatnot!
Your kid gets a heads-up on the history and geography of places across the world. If you pick the right model, the kids will have access to pictures and games too. Some of them also spark imagination because they come with passports and flags. And there is a guide to help the four-year-old navigate the landscape.
It's a great way to set your child up for a riveting journey through time. It's educational and is exciting too. This is great for cognitive and linguistic skills, not to mention the amount of knowledge it imparts.
4. Flash Cards
This is another popular product in the toys section for four-year-olds. It is entertaining enough to keep the playtime light but not an information overload. How well it keeps them informed or engaged depends on the child and the level of sophistication of the set you buy. But if you get those two right, your kid is in for a treat.
These flashcards come in different colours and shapes and they could be about the alphabet (both uppercase and lower) or numbers or days of the week.
These cards are a great way to increase spelling and vocabulary skills along with the childrens' memory. Since a lot of them involve speaking, you can count on the cards to help you with phonics.
Most of the cards are thick, but come in compact packs which makes it easy to carry them around for playdates, ensuring that last the test of time. You might want to buy a variety that are laminated, to save the toy from those inevitable mishaps. And if you don't want to buy them, you can always find exciting themes online and download and print them yourself.
There are plenty of options for toys you can buy for a four-year-old, to help educate them whilst also keeping them entertained. Many pre-schools will also be able to help out with education toys during playtime. Find a preschool that will help your child learn, on Toddle.
---
---
What Are the Best Educational Toys for 4-Year-Olds?