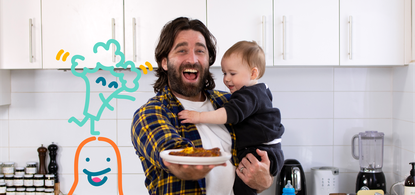 National Nutrition Week runs from 11th - 17th October 2020 and encompasses the 'Tryfor5' message - which is all about encouraging Australians to increase their vegetable consumption to the recommended five serves per day.
As part of National Nutrition Week, Toddle is very pleased to announce our partnership with former Masterchef contestant, Lynton Tapp.
'I'm really excited to be teaming up with Toddle for National Nutrition Week,' Lynton explains. The Masterchef runner up has some wonderful recipes on his website, that are all about getting back to basics with good, nutritious food.
So what's Lynton's advice for getting more veggies into our day? 'I think one of the best ways to do that is to start with breakfast,' he says. 
To show you how, Lynton (and his adorable sous-chef, son Atticus) have got a super easy Pumpkin and Broccoli Hash recipe. Click on the image below to watch the video.
Pumpkin & Broccoli Hash
Ingredients
2 potatoes
1 medium sweet potato
200g pumpkin
1 head of broccoli
150g frozen corn
120g cornflour
2 tsp salt
1 tbsp smoked paprika
Extra virgin olive oil
Method
Preheat your oven to 180 degrees Celsius.
In a large mixing bowl grate the potato, pumpkin and broccoli. Add the cornflour and corn kernels before seasoning with salt and smoked paprika.
Mix all the ingredients thoroughly before adding to a large non-stick pan with 2 tbsp of extra virgin olive oil and sautéing for 3-5 minutes or until the hash begins to lift away and begins to caramelise before transferring to the oven.
Cook your hash for 20 minutes until golden brown and cooked through before removing and flipping out onto a serving plate.
Like the sound of this tasty hash? Keep an eye on Toddle's Corkboard and social media for even more amazing recipes from Lynton and Atticus.
---
---
Watch Masterchef's Lynton Tapp's recipe for a veggie-packed breakfast