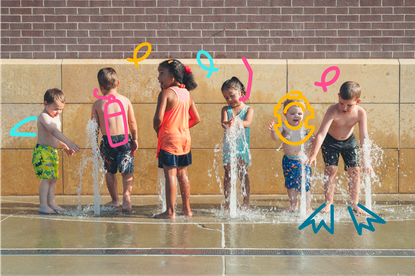 Is your little one 'graduating' from pre-school or childcare and heading off to kindergarten soon? You might be worried about managing their care over the long six week summer holidays.
Well good news is at hand. There is a little known tip relating to Out Of School Hours care (OOSH), if this is available at your school. As well as offering before and after school care, OOSH centres often provide vacation care in the school holidays and on public holidays.
How does this affect your kindy starter?
What does this have to do with your kindergarten starter? Well, once a child is enrolled to begin their kindergarten year, they are able to access OOSH for vacation care during the January before school begins. That's right, you can make the most of the long hours of care provided by OOSH in the school holidays. Generally the hours are around 7am – 6pm, but check your local OOSH as the times may vary. Your child can go along to OOSH and take part in fun activities, meet new friends, and get to know their school a little better before they officially begin kindergarten.
This is great news for parents who are trying to work out how to manage work and childcare over the long summer. OOSH is designed to be an affordable solution for parents, and you can make the most of the government rebate depending on your income.
Are there any exceptions?
Nick Lewis is the director at the OOSH centre known as Big Fat Smile in Bulli, NSW. Nick says that by law, 'the kids can't start with us until the year that they are starting kindergarten. That's why they can come in the January but not in the December prior.'
Some centres have exceptions such as the kindy starters not being able to go on excursions. Nick mentioned that this was not the case at his centre, so it's best to check with your local OOSH to find out if there are any exceptions. Don't worry though as not all students go on the excursions, and there is plenty of fun to be had at the centre.
Are you worried about tears from your kindy starter?
Nick says, 'I definitely do see some tears from the kids at times. Some of the kindergarten children are still adjusting. It's a big change for them.' While it might be tempting to try and distract the upset child, Nick sees it as an opportunity to connect with them. 'We really try and acknowledge emotions.
That acknowledgement is so important to children. They feel valid, seen, as though 'you get me', you care, we are connected. Half the time a child doesn't want a solution they just want to be understood and know that it's OK to feel how they are feeling. We don't need to distract them with a biscuit or an activity, we need to listen to what they are saying. This is part of our OOSH philosophy.'
Parents share their experience with OOSH for their kindy starter
We spoke to some parents who made the most of this lesser known opportunity with OOSH in the month before kindergarten.
'I work three days per week and had been worried about how I was going to afford long days of care for my son during the summer. When I found out that he could attend OOSH during the January before school began, it was such a relief. He had a ball.' Sally, mother of one.

 

'My eldest was about to start kindy and had a lot of older friends already attending the school and using OOSH. They told me that she was able to attend so we jumped at the chance. She had so much fun playing with her friends, and made a few new friends too that ended up being in her class when school began.' Carol, mother of three.
---
---
The little known tip about OOSH for your kindergarten starter