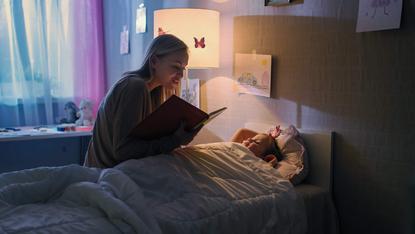 Reading to your child is so important - it helps their brain to develop and encourages their imagination. It can help give your child the words they need to describe their feelings and emotions. Reading is also a great way to bond and share. But sometimes, at the end of a long day, it can be difficult to find the energy or enthusiasm to read. The good news is that there are lots of very funny and short books out there that can give you and your little one a laugh before bed.
Rhyming stories for kids
Toddlers often enjoy books that feature rhyme and rhythmic language. Here are some of our favorites that fall into this category:
Llama Llama Shopping Drama by Anna Dewdney
Little Llama really does not want to go shopping with his Mama, and an epic toddler temper tantrum ensues. This book can help you debrief from a tough day by having a good old giggle at Llama's theatrical meltdown. You'll be amazed at just how many words actually do rhyme with llama. This was the title the launched a whole collection of books and even a Netflix series. Available from World of Books: $33.99
Where is the Green Sheep? by Mem Fox
There are so many different sheep to spot in this book, but of course, it's the elusive green one that little ones look out for. They will delight in being able to help solve the mystery by the time the book ends. Where is the Green Sheep? helps teach little learners about opposites, and also the whole range of diverse beings that make up our world. Available from Amazon: $10
Rudie Nudie by Emma Quay
With a lovely rhyme and flow, and gorgeous illustrations, this lovely bedtime book is just so relatable. The two cheeky children do a nude post-bath dash around the house and yard, to be caught, cuddled, dressed and popped into bed by Mum and Dad. Available from Amazon: $13.92
Short bedtime stories for kids
Simple short stories often feature repetition, which is another element that toddlers enjoy. Some of our favourite short bedtime stories for kids that feature repetition include:
Goodnight Gorilla by Peggy Rathman
This simple story has very few words, which allows you to be the narrator as one naughty but loveable gorilla causes a late-night problem for the zoo keeper. Everyone in the family will have a laugh at the surprise ending, which helps explain what happens to the animals in the zoo at night. Available from Booktopia: $13.40
Hop on Pop by Dr Suess
Dr Suess does it again in this short title which creates opportunity for word play and the exploration of our language through word play and patterns. It's simple, bold and very funny. Available from Big W: $8
Don't let the Pigeon Drive the Bus by Mo Willems
This clever little story sets the reader a challenge- to help ensure the pigeon doesn't take off in the bus while the driver is away. Children seem to love the responsibility of helping the bus driver, and will be delighted by the pigeon's various attempts at negotiation. It gives your little ones an important role to play in the narrative. Available from Big W: $10
Funny bedtime stories for kids
Pig the Pug by Aaron Blaney
Pig the Pug is a very naughty dog indeed. Kids love having a laugh about this pup who learns his lesson. In a very lighthearted way, it helps to demonstrate that bad behaviour can often have serious consequences. Available from Target: $10
I Have to Go by Robert Munsch
There had to be at least one toilet-related title on our list, and we chose I Have to Go. If you're toilet or potty training, this funny little book can give you some guidance. Andrew decided he doesn't need to pee ever again... you can guess how this one ends. Available from Booktopia:$9.99
Dinosaurs love underpants by Claire Freedman
Although undies are really just another piece of clothing, there is something that truly tickles young readers of this book. Dinosaurs love underpants offers us the real explanation for why dinosaurs became extinct. Available from Dymocks: $14.99
Keep it short, keep it simple and don't forget that some of the best bedtime stories for kids are the funniest. Your kids may pick up a new favourite story from their child care centre, so make sure to search Toddle if you're looking for your first, or a new child care centre.
---
---
Short & Funny Bedtime Stories for Kids