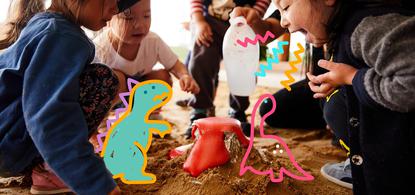 Teaching little ones about science is a great way to encourage them to question the world around them. 
What happens if I do this? 
Why did that happen?
At child care, the educators often set up fun science experiments for toddlers. Today we are sharing five simple ideas that you can prepare yourself at home.
It's so much fun watching your toddler's reaction to these child-friendly experiments, which are all made with everyday ingredients. 
Which one are you going to try first?
1. Crazy volcano
All you need for this experiment is a 2L bottle of diet cola and a packet of mint Mentos. You'll definitely want to set this up outside, as you'll end up with lots of cola on the ground! 

Remove the lid from the cola and place the bottle on a flat surface on the ground. Open the Mentos and place them all into the bottle at once, then stand back. 

The chemical reaction will cause the cola to explode like a volcano, erupting all over the place. Little ones absolutely love this experiment! 

2. Bouncy egg
Most toddlers would understand that if you drop a raw egg, it breaks. This experiment teaches them how to make a bouncy egg that they can play with! 

Simply place a raw egg in a jar and completely cover it with white vinegar. Set aside for 24 hours. Remove the egg from the vinegar and the outer shell will rub off. Rinse it under some water to completely remove the shell. 

What you're left with is an egg that you can drop from a small height and watch it bounce! Children will love playing with this, and when you're finished you can cut into the egg to show them that it is still raw inside.

3. Blow up the balloon
All you need for this one is a balloon, a small bottle, some white vinegar and some baking soda. 

Hold the end of a balloon open and ask your toddler to spoon as much baking soda as they can into it. Half fill the bottle with vinegar and attach the end of the balloon to the bottle. 

Tip the contents of the balloon into the bottle and then let go and watch as the balloon fills with air all by itself.

4. Magical milk
Half fill a shallow dish or cake tin with some full cream milk, and squirt in three different colours of food colouring, making sure they don't touch. 

Next, dip a cotton bud or toothpick into some dishwashing liquid and place it into the milk near the food colouring. 

The soap will repel the colour, creating amazing patterns and moving the colours all around the pan.

5. Colourful oobleck
If you haven't made this before, you're in for a treat. It's a sort of slime-like substance but the fun part of it is that it is part liquid and part solid. When you press or squeeze it firmly it goes hard, but when you hold it gently it turns back into liquid form. Lots of fun for little fingers (and adults too!). 

Simply place 2 cups of cornflour into a large mixing bowl. Add some food colouring to 1 cup of water and mix well. Add the coloured water to the cornflour and mix with a wooden spoon. Adjust with more cornflour or water to get the consistency right. 

You should be able to pick up some of the oobleck and squeeze it into a ball, and then if you relax your hand it should turn back to a liquid and drip back into the bowl.

When you're finished with the oobleck you can store it in an airtight container.  When you decide you've had enough of it, please place it in the bin and not down the drain as it could cause a blockage.
These science experiments for toddlers are super easy and are sure to engage your little one. Which one will you try first?
If you need to find affordable child care in your area, simply use the search bar at the top of the page.
---
---
5 science experiments for toddlers that will make them say WOW