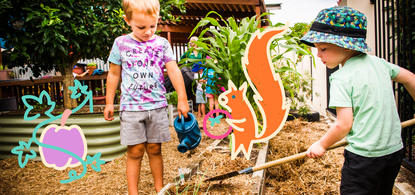 When Sesame Lane child care educator Tiffany brought a banana fruit stalk into her child care centre to show the children, she was amazed at their response. 
None of the children had seen what bananas look like when they're growing, with one child even exclaiming 'bananas don't grow on trees, they come from the shops!'
For Tiffany, this was a pivotal moment for her as an educator at Sesame Lane. She is now the Food Services Coordinator and the founder of the company's 'plant to plate' program.
Known as Owlbert's Garden Program, it all began that day when Tiffany realised that the children at Sesame Lane didn't know where their food came from, or how to grow it.
Bananas don't grow on trees, they come from the shops!
The beginnings of an idea
'I was surprised and honestly really sad,' shares Tiffany. 'Following that day with the children and my banana stalk, I realised that these children needed to know how to grow some food and to understand where the food they eat comes from.
This will help them make healthy food choices throughout their lives and to enjoy and appreciate fresh food that isn't from a shop or a drive through. Even the fruit children eat is usually presented to them cut up on a plate.'
Our lives are so fast now, and these kids really need to stop and enjoy nature.
What 'plant to plate' means at Sesame Lane
The main reason that Tiffany wanted to implement Owlbert's Garden Program at Sesame Lane is because 'it empowers children to make choices about their own health and learn about our environment,' she shares. 
'The program gives children the skills to prepare a garden bed, raise a seed into a seedling, plant seedlings into garden beds, watering, pruning, harvesting, preparing and then enjoying what they have grown for lunch!  
The program also teaches about composting our garden waste and feeding our food scraps to our worms in the worm farms. 
It brings a smile to my face every time a child proudly presents a pumpkin or mandarin to me that they've grown themselves in our centre gardens. I know we've made a difference in this child's life.'
How it has positively affected the children 
'Our Team has observed that if we put a plate of prepared salad sandwiches in front of the children they eat minimally and can be picky.  
But if the children pick lettuce, cucumbers and tomatoes from our gardens, wash them, slice them (yes, the children use knives!) and make their own sandwiches, the children eat all their salad sandwich. It's so encouraging and positive.  
We have group discussion about our produce and talk about what recipe might best suit what is ready to be harvested.  We have made lots of exciting meals including, fried rice, sweet potato chips, salads, pizza, soups, scones and breads.  
The children also benefit from simply being able to pick a mandarin from the tree, peel it and enjoy the sweet juicy flavour!'
I'm so proud to have founded Owlbert's Garden Program at Sesame Lane.
What do the parents think?
'Parents are blown away by how much produce we grow,' explains Tiffany. 
'Nothing goes to waste so when we harvest herbs and there's too much to use in our kitchens, we give them to the parents to take home. 
Our parents love seeing their children in the gardens and I think the parents realise that it's never too soon to teach our children healthy food choices and the importance of looking after our environment.'
How can parents implement this at home?
'Once parents see how much our children love gardening and how enthusiastic they are about eating the vegetables and salads they've grown, parents often want to start their own vegetable patch at home.' 
Tiffany's 5 top tips to help you get started:
Firstly, don't overwhelm yourself, start small.
Grow what your family likes to eat.
Grow what's in season.
Only grow what you have the room for.
Make sure you know what conditions your plant likes.
Involving the children in the process
'Involve your children in the whole process, including choosing the seeds or seedlings, choosing where to grow, what to grow, when to water, checking for pests, problem solving, everything!  
It's a family garden for everyone to nurture and enjoy. I promise you the conversations and outcomes will be so much fun to enjoy together as a family.  
And who knows, maybe your children will teach you a thing or two! Happy gardening.'
You can find out more about Sesame Lane by visiting their listings at: 
Sesame Lane North Lakes McLennan Court
---
---
How to implement a 'plant to plate' philosophy at home