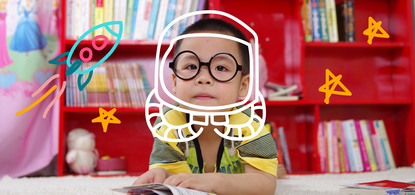 OOSH stands for Out Of School Hours care, and is a place where your school-age child can be cared for before and after school, during school holidays and on pupil free days. Sometimes it's also called vacation care.
It's generally on site at a school, or may be offered at a nearby school with transport organised for the kids.
What are the benefits of OOSH for the school holidays? 
Flexible hours
While the hours vary from centre to centre, they tend to be around 7am – 6pm.  While you have to book in the specific days you want your child to attend, you don't have to confirm times. This gives parents the flexibility to drop off and pick up at times that suit them on the day. The rate is the same set fee whether your child stays for two hours or seven hours for instance.
Activities, activities, activities
The kids are given a TON of options at vacation care. They can join in if they want to, or they can choose to just chill out with a book. This is important as it gives them a sense of autonomy. 
Plus it's school holidays so most parents are happy for them to just do nothing if that's what they choose. When it comes to art and craft, many parents are happy that the kids make a mess at OOSH instead of a mess at home!
Nick Lewis is the director at the OOSH centre known as Big Fat Smile in Bulli, NSW.  'The part that the kids love the most is that it's a totally different vibe in the school holidays. We still follow our program for development but we have a little more flexibility in our routine. 
They feel more empowered in the school holidays, they feel like they're running the day and just hanging out with their friends. It just feels like a giant play date to them. We sort of sneak the developmental elements into the day without them knowing.'
Kid-friendly excursions
OOSH offers off-site excursions to kid-friendly venues such as water parks, cinemas, laser tag or zoos. What a fun way to spend the day! 
For a nominal fee on top of the daily cost, the kids will be transported to the excursion and given a fun experience with their pals.
Nick shares, 'The excursions are great as it's something different. You're with your friends rather than your family, so there's a different vibe there. It's a bit more exciting. 
The kids get to relax with their friends instead of their mum or dad, they can be a little bit cheeky, they get to show off a little more of their personality. They really get to let go.'
Don't want the kids going off site, or they're not keen on that activity? That's OK! There is always the option to stay at the centre each day too, where the educators will have fun activities set up.
Playtime with friends
In the school holidays, kids love setting up play dates with their friends. OOSH makes it easy for them to spend quality time with their mates. 
Some OOSH vacation care centres take kids from other schools and areas too. Your child could make new friends and spend some time with kids they don't normally hang out with.
Theme days 
As well as the excursions, the OOSH centres often have themes for each day which gives them a basis for their activities. For instance they might have a disco day where the kids will dress up and have a dance off. 
Or in the summer they might have a water fun day where they use water bombs and spray bottles to have a water fight with the other kids. 
Nick shares how the themes are decided for his centre. 'The ideas for the theme days mostly come from the directors, but we get our ideas from our observed interests or discussions with the children too. 
For instance if we notice that the kids are maintaining their interest in a particular area (such as Harry Potter for instance) we will try to include that as a theme. We also talk to the parents and see what sorts of things they would like us to include.
Some theme days are included each holidays as they're so popular, for instance we often have a wheels day where the kids bring in bikes and scooters and ride around a track we have created. The kids love those days.
'We like to mix it up so will try to add new and different activities each time. So then the children that do have to come during the holidays aren't thinking 'not this again!'
My favourite activity I've ever taken part in was a day where we went to the local park and had a circus group come to entertain the kids. It was so much fun and the level of excitement from the children was the most amazing I've ever seen.'
Affordability 
The cost of long days of care during the school holidays can be tough for families to manage. OOSH vacation care means you don't need to miss out on income or rely on other people to help you watch the kids. 
The rates are still subsidised by the government rebate, making it much cheaper than other forms of childcare. 
What do parents think about OOSH vacation care?
It's not just the kids that love going to OOSH in the school holidays. The parents and carers love it too!
'Vacation care is so helpful to me as a working mum. The kids are happy to go, as they can play with their friends and take part in well-organised activities. It sounds like a lot more fun than what I would have organised for them at home!' Nancy, mother of three.
'Paying for a nanny from 8am to 4pm two days a week for my kids would hit us hard financially. OOSH is affordable, thanks to the government rebate. Which means I've got more money to spend on the kids on the days we are home together.' Dave, father of two.
How do I find OOSH for my child?
Jump on the Toddle site where you can find out more about OOSH at your child's school. Simply enter your suburb and it will show you all the care available in your area. 
You can also ask at your child's school as they will most likely have some information for you there.
---
---
OOSH is a great way to manage the school holidays as a working parent