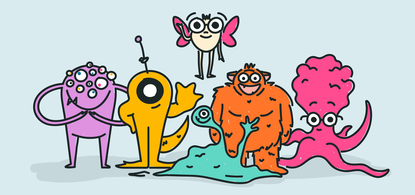 Oh hello, we're so glad you're here. There are six little monsters that would love to meet you!
Toddle's Little Monsters have come to town and we want you to get to know them.
Morph
He's wild, he's tenacious, he's super slimy. This guy leaves a mess wherever he goes!
Morph loves playing outside and his favourite thing to do is climb. His long stretchy arms give him the ability to climb pretty much anything he sets his mind to.
His name means amorphous, which is an object without a clearly defined shape or form. Sounds about right!
Morph loves the colour green and his favourite food of all time is..you guessed it…green jelly!
When he's not climbing to the top of the play equipment or watching parkour videos, you'll find Morph listening to his favourite song Shake It Off by Taylor Swift. 

Ovis
Our yellow friend from the sea is sensitive, shy and careful. You can only see him when he dares to pop his head above the water. 
He uses his oversized, webbed hands to help him hide his face and body when he's feeling a bit nervous. 
We think his yellow colour and body shape look a bit like a submarine, with his one eye in the shape of an old scuba diving helmet.
Ovis's name means quiet, and sometimes the other monsters think that he doesn't want to play with them. He does, but it takes a bit longer for him to make friends than most of the other Little Monsters.
But once you've made friends with Ovis, you've got a friend for life. His favourite things to do are visiting the library and curling up with a good book. He also loves dancing on his own, while listening to Everybody Dance Now by C&C Music Factory.
If you asked Ovis what his favourite food was, he would say "cheesy pasta!"

Trixie
If you want a game of hide and seek, our purple friend Trixie is your girl! She loves nothing more than popping out of her hiding spot and shouting 'boo!'
Trixie got her name because she's such a trickster, and brings joy wherever she goes. With her many eyes, it's hard to know when she will play her next trick on us. Her long arms are always tickling your ribs or tapping your shoulder unexpectedly.
She's brave too. She's the kind of friend you can always count on to help you out when you're in trouble. She loves eating pancakes and waffles at the café with her friends.
Trixie isn't a fan of sitting still, she always wants to know what game she can play next. She loves movies, singing and dancing. Her favourite song is I Like To Move It as she is a BIG fan of Madagascar.
Dotty
Dotty is the only Little Monster with wings, which she uses to flit around here there and everywhere. Her bright pink colour means she's easy to spot! 
She's very curious about the world around her, and loves to play guessing games and memory with her friends. Dotty's favourite food is apples, or anything that she can eat on the go.
Sometimes the others think she is away with the fairies, but that's just the way Dotty's imagination works. She's always thinking up new games to play or fun places to go.
Her favourite song of all time is Let It Go from Frozen. She loves pretending to be a princess, living in a castle made of ice.

Jampa
This big, hairy monster might seem scary at first glance, but is really the most caring and thoughtful monster you'll ever meet.
Who wouldn't want a big warm hug from Jampa? His large ears make him a great listener too. He loves dancing with his friends and his favourite song of all time is Happy by Pharrell Williams.  
Jampa loves eating food that is orange, like him! So look out if you've got a mango or a carrot, because Jampa will definitely want some.
His favourite game to play is tag. Even though he's big, he can actually move quickly when he wants to. Jampa will always make sure that everyone is included in his games, as he is super caring and friendly. 
Fink
This pink Little Monster is the most intelligent monster that ever lived - just look at the size of that brain! 
Fink is also a great multi tasker thanks to her many tentacles. She doesn't have a favourite colour or a favourite food, she loves them all!
Fink can be quite competitive, so you'll probably find her trying to organise a race with the other Little Monsters. But look out, because if she doesn't win she can get pretty upset.
You wouldn't know it to look at her, but Fink has some pretty cool dance moves. You should see her when Gangnam Style comes on!

psst...would you like to take a Little Monster home with you? It's easy! Click here to download our free collection of Little Monsters colouring in pages. 
About Toddle
Toddle is a game changing child care centre comparison website allowing parents to search, discover and enquire in the one helpful location. Toddle takes the guesswork out of what can be a stressful process for parents, aggregating options and presenting the truth in an understandable and engaging way. Toddle has access to data from every Australian child care centre, allowing us to offer neutral recommendations based on your unique needs to make a more informed decision on the best child care centre for your little one. 
---
---
Meet Toddle's Little Monsters