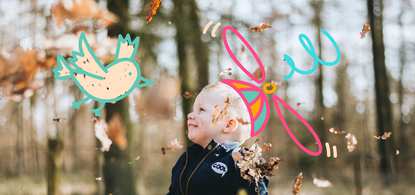 Young children have such amazing imaginations. Where we see a bucket of pegs or a stack of pine cones; they see coins, animals, blocks, trees or biscuits. 
This sense of wonder and imagination is really the essence of loose parts play, a play philosophy that encourages children to interact with objects, move them around, and play with them without being given specific directions for what to do with them.
Toddle spoke to Dr Lesley Jones, Senior Advisor Pedagogy and Practice from Affinity Education Group, who own and operate Lifelong Learning Centres.
Dr Jones explained that loose parts can be literally anything, 'from wooden blocks to leaves, to cotton wool or shells. Through this type of play, children are encouraged to construct and manipulate with a wide variety of open-ended items.'
How is it different to regular play for children?
'Providing children loose parts to play with encourages imagination, exploration, socialisation, creativity and innovative design,' Dr Jones explains. 
'As the objects are open-ended and each item can be used in a multitude of ways, children can discover new ways to interact with the world around them. There is no 'right' or 'wrong' way for children to play in this way. 
When children play with others, they develop their communication skills by telling others what they are pretending items are and how their friends can participate.'
Compare this to an activity such as a puzzle, which has only one 'correct' way of being used, and you'll see the significant benefits that loose parts play can offer in a stimulating children's creativity and imagination.
'Structured games, toys or themed activities limit a child's ability to use their imagination and creativity,' explains Dr Jones. 
What age groups is it suitable for?
Dr Jones explains that it's not just older children who can enjoy loose parts play, in fact, it is suitable for babies through to toddlers. 
'Play should be supervised, especially for babies,' explains Dr Jones, 'and suitable objects provided that are not a choking hazard or risk. 
As children develop more complex learning concepts, educators and parents can prompt questions about what they have built, or asking them to describe the objects they have.'
'Loose parts play can be incorporated into almost any learning activity and should be available to all children.' Dr Lesley Jones 
What are some examples of loose parts play? 
The sky is the limit when it comes to ideas, explains Dr Jones. 'It could be pretend play, using a stick as a fishing rod, or introducing early maths concepts through collecting shells, toys and bottle lids and using them to create patterns,' she shares.
For the educators at the child care centres that are putting these activities together for the children, it can really work as part of the curriculum. 
'So though it may look like a few random items, don't underestimate how children are working hard to solve puzzles, make decisions on what objects are and how they work together to bring their imagination to life!' explains Dr Jones. 
What are the benefits of loose parts play?
Children are naturally inquisitive, and this type of play 'encourages creativity and exploration in children,' explains Dr Jones. 
'The concept was first developed by architect Simon Nicholson in 1971 who described all 'open-ended materials' as loose parts. 
The complete open-endedness of this play also provides insight into areas of interest for children, and can be a useful tool to prompt conversations or extend learning,' she shares. 
How do centres ensure it is safe?
Child care centres always work with safety as their top priority. 
'Centres ensure loose parts play is safe by providing child-appropriate items to play with, and close supervision at all times,' says Dr Jones.
What is your company's philosophy in regards to loose parts play?
'Our Centres use our Lifelong Learning approach to support children's learning and development. It is an approach that is underpinned by research-informed teaching and learning practices, and anchored in play-based experiences for all children. 
This approach provides children with early learning environments and experiences that encourage curiosity, confidence and develops a genuine love of learning,' says Dr Jones. 
'Loose parts play is an important feature of our program, providing young children the opportunity to explore early foundational learning in a child-led, play-based way.' 
'This type of play provides stimulation and amplifies imagination and creativity!' Dr Jones.
How can parents implement this type of play at home?
Loose parts play is not limited to child care centres, explains Dr Jones. In fact, it's easy to incorporate this type of play at home (and you don't need to buy special equipment).
'We encourage families to start collecting loose parts for their children. Baskets of pine cones, a bucket of pegs, jars of buttons (older children only), a container of shells or some pebbles from the garden, and don't forget a stack of cardboard boxes from the groceries - they are excellent for box construction', explains Dr Jones.
Please remember to be mindful that your items are safe for little hands and won't present a hazard if it comes apart, or choking hazard for young children.
So grab your old curtain rings, your cardboard tubes and your measuring spoons - it's time to play!
You can visit some of the Lifelong Learning Centres on the Toddle website:
---
---
How loose parts play helps to develop imagination and creativity in children