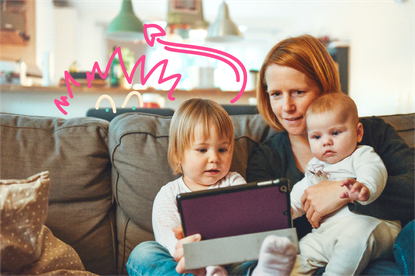 This global pandemic is stressful in itself, but having to go about your daily routine with kids in lockdown too? Now that's a handful. We've put together some tips on how to manage your day to day schedule while your kids are home from school, so take a deep breath and read on.

Break up your day into chunks
Our top tip is to break your day up into manageable chunks. Use a schedule planner to mark out your tasks for the day, and cross off the activities when you're done. This will help you stay on track and you'll feel accomplished when you've completed a task, which will keep you motivated.
If possible, take it in turns to watch the kids. We suggest giving one parent the morning shift and one the afternoon shift. This is particularly helpful if one or both parents are trying to work from home!
If your children are old enough, get them involved when you're planning their day. They'll be more likely to complete their daily tasks if they have a part in the planning, so get them invested.

Schedule break time
If you've split your day into chunks, motivate your kids by giving them activities to look forward to throughout the day. If they've got an hour of school work, schedule a snack break afterwards. Rewarding kids with fun activities will motivate them to complete their tasks on time.

Take advantage of technology
Parents are often made to feel guilty about distracting children with technology, but it's not all bad! There are plenty of TV shows and games that will entertain your kids and keep them learning at the same time. 
Busuu, the online language school, is on a mission to #KeepKidsLearning, and are currently offering children everywhere free access to English, Spanish, Mandarin Chinese and French lessons on YouTube Live everyday! Click here to check out their timetable.
YouTube Kids is exclusively made and curated for children, and means you can let them browse freely without having to worry about them stumbling on any inappropriate content. The videos are entertaining and educational, plus they'll probably find their favourite shows too. Download here for Apple and here for Google Play.

Make time for yourself
This last tip is always helpful, but it's especially important now. Make sure you take some time for yourself. Having the kids around all the time means it's easy for self care to take a backseat, but don't forget to keep an eye on your own physical and mental wellbeing. If you can, try and take a few minutes to do something for yourself. Whether it's having a relaxing bath with a good book or going for a quick jog, it'll help you avoid future burnout. 
Being in lockdown or self isolation is hard. Being in lockdown with kids is ever harder! This is a reminder to not be so hard on yourself. Do what you need to do to get through this time whilst keeping sane. 
---
---
Lockdown with kids: How to manage your daily routine