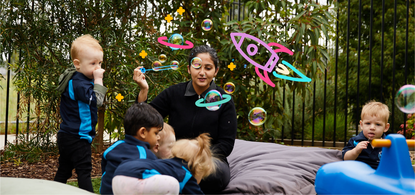 The Australian Academy of Science interviewed Dr Asha Bowen, a paediatrician and infectious disease expert from the Telethon Kids Institute in WA, who also works at the Perth Children's Hospital.
'Children in day care centres are safe to be there,' says paediatrician and infectious disease expert Dr Asha Bowen.

Are children being infected with COVID-19 around the world?
'From what we can tell from international studies, there are fewer children who have been documented to have COVID-19 than their proportion of the population,' she explains. 'So it seems that there are fewer affected, and they have a milder disease when that occurs.' 
'So about 95 per cent of children who have been diagnosed with COVID-19 have had a milder form of the disease than say, adults have been experiencing.'
When asked whether children display symptoms differently to adults, Dr Bowen explains that they tend to be the same types of symptoms as adults. 
'Children can get just as sick as adults, but on the whole, proportionally, there are far fewer children getting very very sick with COVID-19,' she says.

What about the children that have died overseas from COVID-19?
'It's probably less than 15 children globally,' Dr Bowen said. As of April 15th 2020, the total number of people that have died globally from COVID-19 is 134,007. 
The difficulty for researchers in Australia is that although the stories about these children have appeared in the media, there has not been published or peer-reviewed literature as yet for them to base their assumptions on. 
Often the information on whether the children had other health issues is not available.
'Globally the numbers are very small compared to what we are seeing with adults,' Dr Bowen said.

What if my child has other health problems?
The video asks whether parents of children with health issues should be more concerned about using child care centres. 
These children living with underlying health conditions are more susceptible to getting ill when they get a respiratory illness, Dr Bowen explains. 
She goes on to say that for parents of these children, naturally they would be concerned. 'The reassuring part is that our hospitals are ready to care for those children,' she says. 
'Paediatric hospitals and hospitals across Australia have lots and lots of experience caring for these children every year during flu season and we're ready to care for these children this year as well.' 

What else can we do?
In an average year, 8 per cent of children contract influenza and end up in intensive care. 
Dr Bowen feels that our social distancing measures could see a reduction in the number of colds and flu picked up by children this season, which would help keep the hospitals free for other urgent care. 
As well as continuing with our social distancing, Dr Bowen recommends that we all take up the flu vaccine when it becomes available. Children aged 6 months to 5 years can receive the flu vaccine free of charge.

What are child care centres doing to protect the children?
Already the centres are practising social distancing, focusing even more on hand washing and respiratory hygiene, and conducting extra cleaning. 
Some centres have introduced new measures to make drop off and pickups more socially distanced.

Aren't children spreaders of coughs and colds?
Unlike the common cold, flu or influenza, which is often spread from children to children in a school or child care setting, COVID-19 is not spreading in the same way.
'COVID-19 does not seem to be behaving the same way as influenza and other respiratory viruses,' explains Dr Bowen. 
'Fewer than 10 per cent of children in household transmission clusters were the index case, in a study that we've just completed.' This is about 40 per cent less than in cases of influenza. 

So is child care safe?
Dr Bowen explains that this question 'really intersects between the science, the policy, and the public perception.' 
At this stage, she says, there are very few instances where children are infecting other children with the virus.
'Children in day care centres I think are safe to be there. I think that each family needs to make the best decision for their family.'

How can I make use of the free child care?
For families with working parents, the Prime Minister's April announcement of free child care for the next six months gave welcome relief.
If you need to find care for your child, visit the Toddle directory where you can find all of the centres in your area. You can read about the facilities, look at photos, read reviews, book a tour, check availability and make contact with the centre, all from the one place. 
If you are an essential worker and need priority placement for your child, Toddle can manage this for you.

You can watch the interview with Dr Bowen here.
---
---
Is it safe for me to use child care right now?