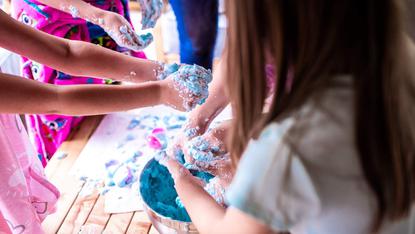 Slime has a grip on children the world over!
It's slippery, sticky, stretchy and springy (depending on the slime recipe you use), and this sensory material comes with benefits. 
Making slime is a parent-led, kid-loved activity that involves research, method and experimentation. Once the slime comes together, it strengthens your child's fine motor skills as they pull and prod, and many kids feel happy, relaxed and focused when they're absorbed in this form of sensory play. 
As well as being soft and stretchy, slime can look glittery, feel fluffy, sound crackly and smell nice. 
One sense it doesn't suit, though, is taste. It's important that you handle any chemicals, supervise slime play, and store it safely, because no matter how good the slime looks, its ingredients aren't for eating. 
The internet is oozing with recipes for Borax-based slime, which is undeniably shiny and stretchy, but this cleaning agent does bring health risks for kids if it's swallowed, inhaled or handled. Although plenty of parents still use Borax, and don't report any problems, the experts recommend that you play it safe with a Borax-free recipe.  
So, how do you make slime for kids?
When you're learning how to make slime for kids, it's as easy as mixing glue with an activator (like baking soda and contact lens solution). 
To your basic slime recipe, you can also add: 
Food colouring
Glitter
Confetti
Sequins
Scented oil
Foam beads (to add crunch if your child is older)
Glow-in-the-dark powder
But for starters, here's how to make slime easy for kids.
1. Fluffy slime 
Fluffy slime is perfect for poking and pulling and gets its puffiness from shaving cream. The more you add, the fluffier the slime, and although the cream settles after about a day, it will last for a week in an air-tight container as standard slime. 
What you'll need:
2/3 cup Elmer's white glue
¼ cup water
½ teaspoon baking soda
2-3 cups of shaving cream
1.5 tablespoons contact lens solution (containing boric acid and sodium borate)
Liquid food colouring 
To make this slime, pour your glue into a bowl, add the water and baking soda, then mix with a spoon. Stir in the shaving cream, then drop in some food colouring until your child approves of the hue.
Next, add one tablespoon of contact lens solution and knead your slime for five minutes. It will feel sticky at first (baby oil on your hands can help), but once you've done the first kneading and added the remaining ½ tablespoon of contact lens solution, it will be feeling, and looking, pretty good. 
You can add a little more solution (especially if you've used three cups of shaving cream), but be cautious, because no-one likes tough slime!
From there, you can experiment with adding texturisers (before the activator goes in):
Body lotion will make your slime stretchier
Glycerin makes it stretchier, glossier and thinner
Cornflour makes slime thicker and more matte
Air-dry clay makes it shapeable, stretchable and non-sticky
2. Scented slime
Shampoo and cornflour slime contains no glue or Borax, so it's a kid-safe option that smells hair-venly. 
What you'll need:
4 tablespoons shampoo
1 tablespoon water
Food colouring
½ cup cornflour
Simply mix the shampoo, water and colour together in a bowl, add the cornflour and keep mixing. You can bring the slime together with your hands, and if it's too dry, add a squidge more shampoo. 
3. Stretchy slime
Another glue- and Borax-free recipe involves you working one or two sticks of Blu-Tack together with a few pumps of liquid hand soap. 
We used mint-scented soap for a fresh touch, and it's important to add it gradually to ensure your slime is more stretchy than sticky. 
4. Oobleck slime
You can also go back to basics by combining 2 cups of cornflour with enough water to get a slimy consistency (about 1 cup).
Oobleck is a non-Newtonian fluid, which means it can change from liquid to solid, so show your child how to slowly  dribble it from hand to hand, then quickly jab your finger into a bowl of it. Magic! 
Slime is a great messy play option at home, and at child care, activities like mud kitchens and sandpits support your child's language, social, fine and gross motor skill development.  
To find a child care centre with engaging programs, search Australia's most trusted child care comparison site, Toddle.
---
---
How to make slime for kids