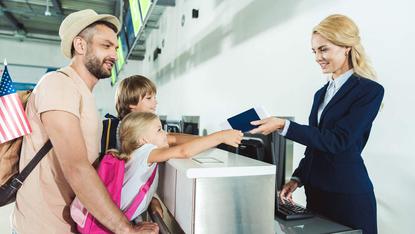 Travelling can be one of life's greatest experiences, filled with exciting and life changing adventures – and having kids doesn't mean it isn't an option. In fact it's a valuable experience for children that teaches them life perspective, resilience, and flexibility, and can expose them to different cultures and languages. 
However, if you are taking kids on a holiday, or travelling for any purpose, you want to be prepared so that it goes as smoothly as possible. One of the ways to start preparing - that must be organized in advance - is getting your child's passport sorted. You can learn about the passport application process by reading this article, which will cover how to get a passport for a child.
What you'll need
Before you get started, make sure you've got all the required documents ready. You need the documents below for filling out the passport paperwork, and you'll need to bring them with you when you make your application - remember that the documents must be original and not photocopies.
Required documents:
Child's birth certificate
Evidence of child's Australian citizenship
Change of name documents (if necessary)
Court orders or relevant documents to determine parental responsibility of the child
It's also necessary to choose someone to be the child's guarantor, which involves signing a section of the application, and writing an endorsement on the back of the photo of your child to confirm their identity. The guarantor must be an Australian citizen who has known the child for at least a year (or from birth if under one) and cannot be related to the child or parent, or in a relationship or living at the same address as the parent. For more details on who can be a guarantor, including what to do if you're applying overseas, you can check the Australian government passport website.
Passport application
The easiest way to apply for a child's passport is online via the Australian Government passport website, which will guide you through each step of the process. You can also apply in person at a participating Australian Post outlet, where you will fill out a child passport application form and can be assisted by the customer service staff.
There are a few more steps to complete before submitting the application:
Print the online form generated by the application website, and get the required signatures- make sure you check which ones you need
Passport photos- photos must meet the passport photo requirements, so it's safest to get them done at an Australian Post outlet
Lodging the passport application
Now that you've got everything organized, you can submit your application. You'll need to submit it in person at an Australian Post outlet, and pay an application fee: how much is a kid's passport? For children under 16 years an application costs $152, with additional fees if you're requesting priority processing or an overseas application. 
Some outlets may require you book an appointment for submitting the application, so check before you proceed. Make sure you've got all the required documents including the application form (with everything filled out correctly and signatures obtained), passport photos of the child and required original documents such as birth certificate. You'll also need to have your own proof of identification that includes a photo, signature and current address. If the child is over the age of 16, they will need to attend with you.
How long will it take?
You will be contacted via email when the application has been processed and is ready, which usually takes around three weeks. If you need the passport urgently, there are options available to have the process expedited. But we'd still recommend getting onto it early, just in case!
Now that you've got an idea of how to get a passport for a child, you can make the first step towards an exciting new adventure for you and your family. You can also prepare your child for this new experience by reading books about change.
If you have an adventurous child, they could thrive in childcare- to find an approved Australian center near you, search Toddle. 
---
---
How To Get A Passport For a Child