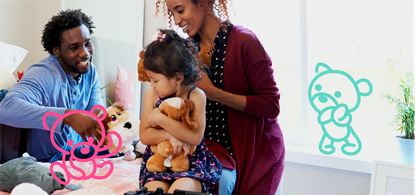 Co-parenting can be tricky under normal circumstances, but social distancing and isolation during the coronavirus pandemic has added another layer of difficulty. If you're unsure of how to co-parent during this time, you're not alone! Here's our advice on how to maintain your co-parenting schedule whilst in isolation or lockdown.

Can my normal co-parenting schedule continue?

In short, yes. If two parents do not live in the same place, your child can continue to visit with each parent in their separate households. If one parent is reasonably concerned that complying with a prior arrangement would be against public health advice from the Government, they may temporarily vary the arrangement to one that both parents consider appropriate and safe.

It is also necessary to discuss visiting with a parent if there are people in the household, such as grandparents, who are at a greater risk if they contract COVID-19. 

If you do decide to make any changes to arrangements, it's a good idea to keep a record of these through email or text with the other parent. 

Keep communication open between parents

This may be harder for some than others, but keeping communication open between parents is essential. Ideally, any issues between parents will get put aside during this time. The health and safety of your kids is the most important thing. 

Discuss any concerns and set ground rules

It's important that both parents understand what the other is comfortable with when it comes to the safety of your child or children. Decide what activities are appropriate during each parent's time with the kids, such as going to the park or shops together. Both of you should feel comfortable that your child is safe when with the other parent.

What if my child or a parent shows symptoms of coronavirus?

If your child or one of the parents shows signs that they may have contracted coronavirus, the whole household should self isolate for 14 days. Once this 14 day period is up, the child is free to move between households once again!

Until advised otherwise by the Government, anyone that has a fever, cough, sore throat or shortness of breath should be self isolating for 14 days. 

Decide together how much information you'll share with your child

Depending on the age of your kids, they may be seeing things on the news about the current situation or hear things from other children. Children may be anxious and scared if they hear things about the pandemic that they may not totally understand, so we advise that parents discuss how much information they plan to share. Keep your child assured to help ease stress. Let them know that they are safe when in either parents' household.
If you are struggling to know how to explain Coronavirus to your little one, we have created a book to help explain! Toddle's Little Monster characters are based on the six children's personality archetypes and, amongst other things, aim to educate children about germs, how they spread and how they can stay healthy so that they feel empowered.
From Jampa, who is caring and friendly, to Morph who is wild and tenacious, each little monster aims to connect with your child and be a relatable voice to explain the COVID-19 world.
Click here to read and download the book. We invite you to download a colouring in version of the book for your little ones to keep them busy and make sure you share your Little Monster drawings and colouring in with us by following us on Facebook or Instagram and tagging #toddle.
Keep communication open between kids and parents

Children may also be feeling more stressed and anxious due to changing routines during the pandemic. It's important to keep kids in touch with both parents while we're waiting for life to go back to normal. We suggest checking in with your kids regularly. Depending on their age, you could read them a bedtime story over FaceTime, eat dinner with them or just ask about their day. It's good for them to hear your voice if you can't be with them in person.

Contact a family mediator if necessary 

You can have the best intentions, but we understand that sometimes situations can't be resolved alone. If you need to, contact a family mediator to help assist with any conflict resolution. A family mediator can help you and the other parent work out an agreement for your child during this time, or help you amend an agreement you already have in place. If you'd like more information about family mediators, click here.

The most important thing to remember during this time is that safety is paramount. While previous arrangements may have to be altered, the health of your kids should be the primary focus of any decision. While it is certainly easier said than done, maintaining open communication with the other parent is crucial. The coronavirus situation is changing day-to-day, which means there is also a lot of misinformation being circulated, but keeping up with Government announcements is essential. 
---
---
How to Co-parent During Isolation