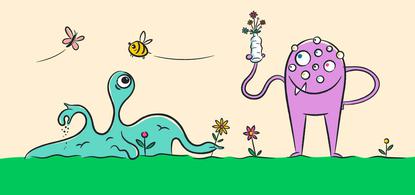 Australia's most trusted child care comparison site, Toddle, and our charity partner Millennium Kids have come together to provide parents and children with fun sustainability themed resources for children.
It doesn't matter whether you're big or small, everyone can take actionable steps to help support a greener future for our planet.
This year, Toddle launched a children's storybook, Go Green with Morph, to educate children on sustainability. We created our shop to sell our storybook, along with colouring-in posters and stickers to use around the house. All proceeds go to our charity partner, Millennium Kids. You can visit the shop here.
Now we want to give families the tools they need to start their own sustainability journey from home. With help from Morph and Toddle's other Little Monsters, families can try out these simple activities which will teach children all about saving water, reducing energy consumption, and more.
Activity 1: Go Green like Morph
Children head to their favourite beach, local park or bushland and take note of what they see. Draw or write a list of your observations.
Did you know? Australia has over 1,700 species of native bees. Only eleven of these species are stingless!
(Source: https://www.aussiebee.com.au)
Activity 2: Recycle like Trixie
Check out your local council's container deposit scheme (all states offer this except Victoria, which is set to begin a refund scheme in 2023). Investigate the 10c refund for bottles and cans, and encourage your children to start collecting. The resource pack has a table that you can fill in with the total number of items and the dollar value.
Did you know? Every year the average Australian family produces enough rubbish to fill a three-bedroom house, producing about 2.25 kg of waste each per day.
(Source: Ha, Tanya, 2009, Green Stuff for Kids, Melbourne University Press)
Activity 3: Switch it off like Fink
When you go out, switch off the screens and fans and lights so that you're not wasting electricity. This is even more important when you're going away for longer periods, such as holidays or weekends away. Use our handy checklist on the resource pack to ensure you've turned everything off.
Did you know? Appliances still use power when they're in standby mode – and this can add up to 10% of your electricity use.
(Source: Choice, June 2021)
Activity 4: Save water like Ovis
The resource pack includes two practical tips that children can try, to reduce the amount of water they use while showering or brushing their teeth. 
Did you know? For a family of 4, replacing a showerhead that flows at 15L/min with:
●  a 3-star shower at 9L/min will save 70kL and $210 each year on water bills
●  a 4-star shower at 6L/min will save 105kL and $315 each year on water bills.
(Source: Department of Industry, Science, Energy and Resources, June 2021)
Activity 5: Bin it like Jampa
The resource pack shares a handy tip for items you can keep in your backpack on days out, so that you can do a small clean up when you go to the park, beach or waterway.  If everyone picked up three pieces of litter a day we would have a much cleaner world. Take a photo and tag @take3forthesea on social media!
There's also some information on saying 'no thanks' to straws, and how to create your own little pouch to store your own reusable straw. 
Did you know? According to Clean Up Australia, Australians use about 10 million straws every day, or 3.5 billion a year. Most straws are used just once, for around 15-30 minutes, and then thrown away.  Say no to straws!
(Source: https://www.barrierreef.org)
Activity 6: Grow your own like Dotty 
Growing sprouts is a great way to learn about plants - and you can eat them, too! Have some fun keeping a daily diary of their growth. They'll be ready to start eating from day 4-5. Check out the resource pack for everything you'll need and some step by step instructions. 
Gardening is a healthy, fun activity for children. Children develop new skills and learn about science and nature from growing their own food.
Like the look of these 6 stickers? You can buy them here, with all proceeds supporting our charity partner, Millennium Kids.
Need to find child care?
With every child care centre all in one place, Toddle is Australia's most trusted source of information for parents when it comes to finding child care for their little ones. Our easy to use site lets you discover, compare, shortlist and enquire on child care centres in your area.
All the information you need is presented in an unbiased way, including ratings, reviews, testimonials, fees, current availability, photos and videos, tour booking enquiries, and more. And it's free to use, no catches.
We're here to take the hard work out of finding the right child care.
---
---
Go green at home with these 6 fun printable activities for children