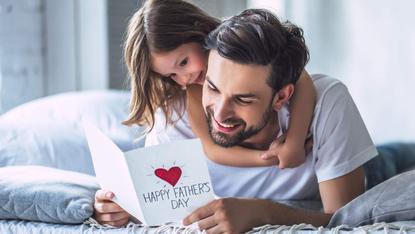 A kid-made greeting card gets the stamp of approval from dads, and this Father's Day, there are design options for all ages, and opportunities for your child to push the envelope when it comes to their skills. 
Card-making draws on your kiddo's hand-eye coordination and identification powers, and it involves dexterity, focus and creativity. There's painting, gluing, writing and drawing to be done, and to get things started, here are 4 Father's Day card ideas for kids to make (and dads to love). 
1. Colour splodge card
A baby-made card is a creative way to combine sensory play and art-making for your bub's first Father's Day. 
Simply fold an A4 sheet of light cardboard in half and squeeze on some blobs of different coloured paint, with your little one's help. Carefully slip the card into a freezer bag, and tape it to your baby's high chair table or other art-making surface.
Double-check the bag is sealed, then show your bub how to pat, press and swirl the paint together, naming colours as you go. Give your child time to work their own magic, then carefully remove their card from the bag, leave it to dry, and add bubba's message, which could include a note penned by you and handprint from them. 
2. Watermelon card
Dad will know he's 'one in a melon' when your toddler makes him a watermelon card. 
To begin this project, trace a large circle on some white art paper with a plate, and cut it out. Write your toddler's Father's Day message around the circumference in black Texta and invite them to draw pictures of 'Dad and me' in the centre.
Next, flip the circle over and pass your toddler a paintbrush. Using a watermelon photo as reference material, show them how to colour the whole circle red, then add a rim of white and green paint for the shell. 
Leave to dry, then glue on lots of little teardrop-shaped seeds, cut from black paper. Fold your child's card in half, slip this segment into a custom-cut, stripey green envelope, and serve!
3. Turtle handprint card
Your preschooler's hands won't stay little for long, and a turtle handprint card is a cute way to capture the moment for Dad.
To make your turtle, you'll need a piece of green construction paper, folded in half. Lay your child's hand on the paper, with their wrist on the folded edge, and trace around it with a pencil. Cut out the hand shape and open the card, so the two sets of fingers are pointing up and down. 
Help your child write, 'You are turtley awesome, Dad!' inside, then close the card, so all the fingers are pointing down together.  
Draw some toenails on the front four fingertips with black Texta, then cut a turtle-shaped head and neck from the leftover paper. Glue this to the front of the card, so the head is facing the opposite way to the thumb, and help your child draw a smile and eye on Turtley's face. 
Finish by gluing pom poms all over the handprint's palm to make a fluffy shell, and don't forget to tell your child that this project has "tortoise" something new (because it's a punny kind of card!).
4. Zig-zag book card
Once your child is getting to grips with pencil-holding, a book card is fun to make and illustrate. 
You can use this template, or simply cut a piece of light cardstock in half horizontally, fold each strip into thirds (like an accordion) and glue them together end-to-end. Your child can then fill the pages with love and laughs, using pencils, Textas, photos and stickers. 
Writing prompts from you also encourage their literacy and drawing skills, and 'I love Dad because …' is one example of an open-ended question your tyke can answer and illustrate.  
These Father's Day card ideas pair well with a homemade gift, and, at child care, a world of creativity also awaits.
To find an enlightening program for your baby, toddler or preschooler, use Australia's most trusted child care comparison site, Toddle. 
---
---
Father's Day card ideas for kids to make