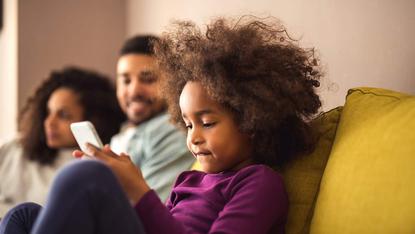 The best educational apps are thoughtful, interactive and fun. 
Instead of tapping mindlessly, your child has to switch their brain on to plan, solve and question, and their learning isn't one-dimensional. Different skills come into play, and the app will feel like a welcome challenge, not a chore. 
There are squillions of educational apps to choose from, and to help you find quality amidst the quantity, we've done some research.
The following apps are rated highly by education experts, so see which ones take your child's interest, then let the learning begin! 
All are available for Apple and Android devices, unless we've said they're iPad only. 
1. Thinkrolls: Logic Puzzles – ages 4+
This science-based platformer teaches your child about force, buoyancy, speed, heat, elasticity and friction as they try (and try again) to navigate their Thinkroll past cookies, balloons and other obstacles. There are stacks of puzzling levels, and each one requires reasoning, experimentation and problem-solving.   
2. Faces iMake: Right Brain Creativity – ages 5+ 
This arty iPad app sees your child creating collage pictures with everyday objects. There are different categories and backgrounds to choose from, and as they re-imagine buttons, bananas and other items, your child builds visual awareness and visual associations.
3. Marble Math Junior – ages 5+ 
Your mini-mathematician has to think fast and stay focused as they move their marble through different mazes, tilting the tablet as they go. You get to choose which maths concepts they'll encounter (such as shape-matching, time-telling, addition, subtraction, multiplication or fractions), and there's help at hand if your child hits a roadblock. 
4. Toontastic 3D – ages 5+
This cartoon story creator puts your child in the director's chair and in the frame. They get to draw and animate 3D characters, add their own photo, narrate the story and mix music, and throughout this creative journey, they learn about story arcs, dialogue and drama. 
5. Threes! – ages 6+
This number slider puzzler teaches maths skills as your child realises that 3 + 3 will slide under 6, and it doesn't take long for the number-matching to move into double (and triple) digits. Strategy is needed to avoid a gridlock, and, chances are, you'll want to get in on the action, too.
6. Robot School – ages 7+
Programming ability will take your child far in their future life, and this iPad app is a great way to launch the skillset. Your kiddie coder has to drag and drop programming instructions to control R-obbie the Robot, collect fuel and, ultimately, get him home. This means that instead of memorising bits of code, they can focus on creative problem-solving and logic concepts as they level-up. 
7. DragonBox Elements: Geometry – ages 8+
There are over 100 puzzles in this app and they all (secretly) teach geometry. A growing understanding of triangles, circles, quadrilaterals, lines and angles is needed to build an army and save Euclid's Island from an evil dragon. And if you don't know who Euclid is, now's a good time to look him up!
8. Minecraft – ages 9 or 10+
Minecraft provides infinite opportunities for your child to create and explore. It's genuinely engaging, highly interactive, and builds your crafter's spatial awareness and creative-thinking. There are structures to engineer, elements to experiment with, and room for teamwork when Minecraft goes multi-player. 
It's important to remember that good screen habits are key whenever your child uses a digital device, and eSafety lessons can start long before school does.  
In the early years, child care centres use technology to great effect, and if you're looking for a forward-thinking centre for your under five, Toddle can help.
---
---
8 Awesome Educational Apps for Kids