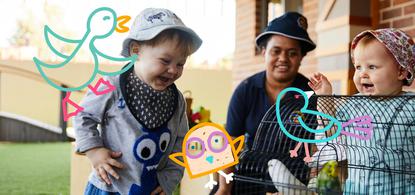 They say never to work with children or animals, but at Jenny's Kindergarten Stanmore they're doing both!
Jenny's Stanmore prides itself on its wonderful array of centre pets, and the children think it's just fantastic having lots of friends to play with.
We spoke to Farah Danyen, Centre Director at Jenny's Kindergarten Stanmore to find out more. 
Tell us about the animals at your child care centre
'We love our animals here at Jenny's Kindergarten Stanmore, says Farah. 'We have pets on each level. 
We have a fish tank in the foyer on the ground floor, birds on the first floor and on the second floor we not only have a rabbit but also a guinea pig. 
The children absolutely love our animals.  Before we actually got them, we had discussions with the children about whether they'd like to have pets at the centre and if they did, what pets they would have liked. 
We took on board their ideas and ended up getting the four most popular pet choices!'
'Children who grow up with pets are less likely to face behavioural difficulties or problems with their peers.'
How are the children involved with the animals?
'The children will feed the animals, top-up their food, and make sure they have enough water,' says Farah. 
'They will save their fruit and vegetable scraps from morning tea and afternoon tea to give to the animals. Our little learning learners will often bring carrots and other vegetable scraps from home for our furry friends.
The bunny and the guinea pig are our 'free range' animals. They have direct access to the children and are an active, living part of the children's environments. 
The children will play will them, observe them as they graze in the gardens, pat them, and play with them.'
What are the benefits for children of having access to the centre pets?
'Even from infancy, many children demonstrate curiosity about and interest in animals,' shares Farah. 
'In addition to feeding and directly caring for pets, one of the more common behaviours children engage in is talking to animals. 
This sense of 'animal as peer' asserts the child's awareness of animals as another being, capable of communicating, understanding, and perhaps even responding to a child's social advances. 
Combining children's natural curiosity with animals provides a powerful pedagogical tool, building children's self-concepts, science skills, providing opportunities for children to develop sensory, physical, emotional, intellectual and social skills. 
Research has shown that when children care for animals they are more likely to have high self-esteem which in turn improves a range of outcomes throughout their lives.
Children can also learn the responsibility of caring for an animal who relies on them to be fed, given water and cleaned on a regular basis. Responsibility is a valuable skill for life.'
What do the parents think?
'Most families agreed in our initial pet survey that pets do have positive outcomes on children's learning and development,' shares Farah. 
'They were all happy for us having pets as part of the Jenny's Stanmore family. Some families even suggested that they'd be happy to take the animals home for the weekend. 
We've made provisions for this and have also bought pet carriers and home visit bags with food and other essentials. There's even a 'My adventure with the school pets' book for families and children to share news about the pet's visit to their house.' 
'Patting our bunny is a great distraction if a child is upset about their parent leaving in the morning'
What do the children think of the animals?
'We will often find children enjoying some quiet time with the animals,' says Farah. 
'The animals, especially, the bunny is really friendly and loves the children. He loves being patted and children often sit down by his cage to pat him. They will also watch him graze in the garden, jump from incredible heights, and race across the playground. The love and attention bestowed on children by animals feel pretty special. 
Research has shown that when children care for animals they are more likely to have high self-esteem which in turn improves a range of outcomes throughout their lives. 
In addition, spending time with animals can help children to develop a strong sense of empathy.'
You can read more about Jenny's Kindergarten Stanmore here, or to find child care for your little one just type the name of your suburb or town into the search bar at the top of the page.
---
---
This child care centre's pets provide invaluable lessons in friendship and responsibility