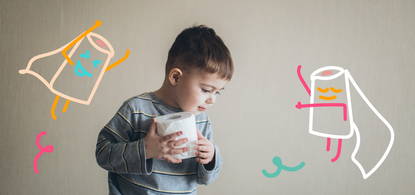 There's nothing like a good book to help explain how things work to children. The pictures and gentle rhymes in these books can make difficult concepts easier for little ones to understand.
Check out the links to the videos below so that you can get a feel for the book before you purchase it. 
Often child care centres will read books like these to the children as it's a great way to open up the discussion about subjects that can be quite challenging.
1. Toilet training
Super Pooper and Whizz Kid: Potty Power by Hello!Lucky
Perfect for your little superhero, this modern book is a fun way to introduce the idea of toilet training.
2. Mum is having a baby
There's a house inside my mummy by Giles Andreae
Read this to your older child when your family is about to grow. It helps them understand the magic of pregnancy, and reassures them that their little brother or sister can't wait to meet them.
3. Death of a loved one
The Heart and the Bottle by Oliver Jeffers
The author of 'The Day the Crayons Quit' shares his signature style in this story about a young girl who loses a grandparent. She tries to protect her heart from being hurt again, and then discovers that she can't live like that and needs to let it out.
4. Different types of families
Love Makes A Family by Sophie Beer
It doesn't matter whether you have two mums, two dads, or any combination of caregivers - the most important thing that a family has is love. This is a lovely book full of bright pictures that will show your child that families come in all shapes, sizes and types.
5. Separation 
Invisible String by Patrice Karst
This book is ideal to explain the idea of love and how it can always be felt, even if the people can't be together. Whether someone misses their parents when they're at school, had a friend that moved away, or a family member that has died, this lovely story is perfect. 
6. Moving house
A House for Hermit Crab by Eric Carle
This is a lovely story about a crab who needs to find a new home, and makes lots of friends along the way. It's about new beginnings, change, and that even when it feels scary, new adventures are right around the corner.
---
---
6 books to teach young children about change