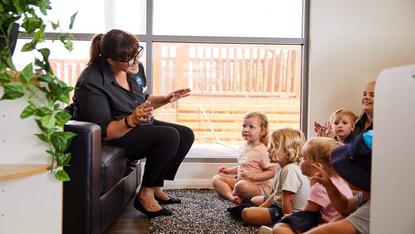 There are estimated to be more than 152,000 children's care workers in Australia today, and the demand for qualified and skilled staff is growing. To work in a childcare centre in Australia, the minimum qualification needed is Certificate III in Childhood Education and Care.
Childcare qualifications needed
When you're looking for staff for your childcare centre, there will be some essential traits you want to see in a potential employee. To operate a thriving childcare centre, you're going to need staff who are skilled at engaging with children and are passionate about assisting them to flourish. Often these are innate skills and capabilities you will find in dedicated children's workers. However, to work in a childcare centre, there are also essential qualifications that your childcare workers will need to have.
Minimum childcare qualifications needed
The minimum qualification required to become a Childcare Worker in Australia is the Certificate III in Childhood Education and Care. This course focuses on providing care to pre-school aged children, who could be anywhere from birth to five years. Typically, it takes students between six and 12 months to complete this certificate. This qualification equips students with the skills they need to provide physical care to children. This includes changing nappies, settling for a nap, or providing appropriate and healthy food and drink.
Certificate III in Childhood Education
The Certificate III in Childhood Education and Care is a contemporary and relevant qualification that enables graduates to understand their responsibilities at work. Staff need to be able to contribute to the creation of a safe, caring and learning environment for children at your centre. So this qualification is focused on ensuring that graduates are able to provide appropriate care and opportunities for children. This means considering their social, cultural and developmental needs and having the ability to see each child's unique attributes, skills, and interests.
Working effectively in childcare
The course also covers other elements, related to being an employee and team member. Staff need to know how to work effectively with others appropriately in the workplace. This can mean responding to direction, working as part of a team, and interacting appropriately with parents and family members. Staff will need to interpret and follow centre policies and procedures, keep records, case notes and learning profiles for children, and make observations of children to identify learning goals and opportunities. They also need to be able to work within the legal and ethical framework of the sector.
Supporting wellbeing, learning and creativity
Equipping children with an interest in learning is critical, so staff need to provide experiences that will support play and learning. They also need to have the ability to support children with special needs or behavioural issues. Sometimes, this could mean working with other agencies or health professionals to provide information about and make a plan for a child's care.
Other important qualifications
Childcare workers must also hold a current Working with Children License. These licenses are obtained by making an application online and are mandatory for any person who is, or plans to carry out voluntary or paid work caring for children. Many centres also make it compulsory that all childcare workers have a current First Aid certificate too. This enables your team members to be able to provide first aid should an accident or injury occur. There is also an expectation that childcare professionals should have a good grasp of the English language.
Diploma of Early Childhood Education and Care
For those who wish to extend beyond the minimum, another qualification to look out for is the Diploma of Early Childhood Education and Care. This qualification gives students a more in-depth understanding of the provision of care and the creation of programs that support children. Staff who have completed the Diploma will take a lead role in the creation of a safe and healthy care environment, and the overall programming and activities for groups of children. They can also take a lead role in the day-to-day running of the room in which they work- from handling incidents to scheduling breaks for the team.
How to obtain childcare qualifications needed
A number of private and public providers deliver the Certificate III in Childhood Education and Care or equivalent qualifications. Courses are offered with a degree of flexibility, however, undertaking a placement in a centre is a mandatory component.
If you've found the job, or the staff you're after, you can then turn to Toddle to help you fill your vacancies. Contact the team today, to see how we can help.
---
---
Becoming a Child Care Worker: The Qualifications Needed