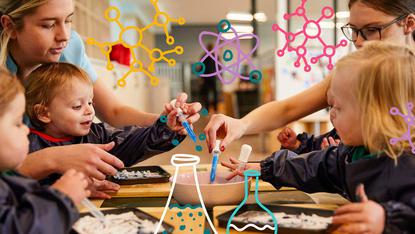 Baths can be relaxing, fun and beneficial for children and adults alike - and add a good bath bomb and it becomes a magical experience. Bath bombs can also be a good incentive to get kids into the bath and to encourage them to enjoy spending time in the water, and they can also learn about science in the making process. DIY bath bombs can be easy, inexpensive and made with natural ingredients to look after delicate skin and the environment: if you're wondering how to make bath bombs for kids, this article is for you.
What you'll need
This bath bomb recipe is simple and non-toxic, made with natural ingredients that are easy on skin and the environment. Many of the necessary ingredients will already be in your pantry, but to get that fun fizz that the kids love so much you need the correct components, so check this list before starting.  
Baking soda
Baking soda is essential for the bath bomb, as it reacts with the citric acid to cause fizzing. This is a great opportunity to learn about the science behind the fizz reaction - read up about it in a science book or watch an age-appropriate YouTube explanation together.
Citric acid
Citric acid is the other component necessary for that fizzing effect, so even though it's not as common to have on hand, it is essential for the bath bomb and can be found in the supermarket, pharmacy or health food store.
Corn starch
The interesting texture of corn-starch is what gives this bath bomb that luxurious silky feeling, so definitely don't miss this ingredient.
Epsom salt
If you don't already have Epsom salt at home, it can be found at the supermarket or health food shop. You can also use sea salt for this purpose, but Epsom salt has healing and relaxing properties which makes it ideal for adding to your child's bath.
Oil
Oil is what helps to hold the bath bomb together, and moisturise your child's skin. You can use just about any oil you've got on hand, such as vegetable oil or olive oil, but almond oil or coconut oil might be suitable for sensitive skin.
Colour and scent
These ingredients are optional, but making the bath a pretty colour and leaving your kids smelling heavenly adds that special touch associated with bath bombs.
Use your favourite essential oils, making sure they're safe to use with kids, and add a natural colour option such as beetroot powder or blue/green spirulina that won't stain your tub (available at health food stores).
Equipment
This is an easy bath bomb recipe for kids that doesn't require much equipment, you'll simply need:
Two mixing bowls
Measuring cups and spoons
Whisk
Spatula
Mould – silicone muffin tins work well, or just grease what you've got available
Note: the mould isn't strictly necessary, although it does help create shape and keep the bath bomb together. If you don't have any moulds, shape the balls with your hands and place on a tray in the fridge instead.
Bath bomb recipe  
Ingredients
1 cup baking soda
½  cup citric acid
¾   cup corn starch
½ cup Epsom salt
2 tbsp. oil  
Essential oil of your choice
3 tsp. water
Colouring
Method:
Whisk dry ingredients in a bowl, then add the desired colouring.
In a separate bowl, combine the wet ingredients- depending how strong your essential oil is, use 5-15 drops. 
Combine wet and dry ingredients, whisking slowly until smooth. If the mixture is too chunky, consider adding a dash of water but it is important to do this slowly so that the ingredients aren't activated.
Pour the mixture into your chosen mould, or mould with your hands, and place in the fridge for 40-60 minutes.
Fill a bath, and place one of your bath bombs in to enjoy a fizzy, colourful, lovely smelling bath.
Your kids will love helping to make this bath bomb recipe, so get busy together in the kitchen, then fill up the bath tub and throw in your delicious creation to relax and unwind before sleep or rest time.
Childcare can provide lots of fun, educational, and stimulating activities for kids, so use Toddle to find an approved childcare near you today.   
---
---
Bath Bomb Recipe For Kids