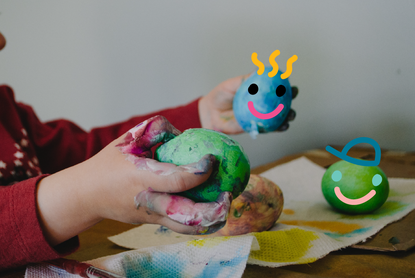 If you want to encourage your child's brain development, help them form new neural pathways, and facilitate learning as they grow up – sensory play can help.
When your child attends child care, you'll often find that the educators have set up sensory play areas for the children.
Sensory play is anything that taps into your child's sense of sight, touch, taste, smell and hearing.
There are so many fun ways to encourage them to take part in sensory play at home, and you don't need any fancy equipment.
1. Play Dough
There's a reason why play dough is so popular. Play dough taps into so many of the senses, and you can change it up to make it even more fun!
Make it smell good: add a packet of jelly crystals to the bowl with the flour and salt; add a few drops of essential oils; ground cinnamon; or some finely chopped herbs.

Make it look good: add a sprinkling of glitter to your mixture.

Add more texture: use googly eyes, pasta shells or buttons for decorating it
2. Sand Play
Got a sandpit? Why not bury some 'treasure' for the kids to find? 
Or make a sand play area with a big shallow tub filled with sand from the hardware shop. Add figures, trucks, tools to play with and let your child's imagination run wild. 
Want to try something else besides sand? Use flour, oats, sugar or rice instead.
3. Scavenger Hunt
Give the kids a list of items that they need to find around the house and in the garden. 
It might be things like a peg, a leaf, something soft, something musical, a flower, a toy car and a bug. Encourage them to tick things off the list as they race around trying to find each item.
4. Frozen Toys
Kids LOVE this one. Simply find some freezer-friendly plastic tubs, place a toy in each (such as a plastic dinosaur or figurine), fill with water and food colouring, and freeze overnight. 
The next day, bring out the trapped toys and ask the kids to help you bust them out. 
They could smash them on the ground, dunk them in a bucket of water, or spray them with a water gun until the toy can escape. 
Another fun idea is to place the toy in a water bomb balloon instead of the tub, so that it looks like it's in a frozen egg.
5. Music Shakers
Keep those plastic bottles and formula tins on hand! Fill them with rice, beads, dried lentils, pasta, coins or anything noisy. Seal the lid with tape and start shaking!
6. Glitter Bottles
While you've got the plastic bottles handy, try this. In a jug add 300ml warm water and ½ cup of glitter glue. Mix well and add to a plastic bottle. Super glue or tape the lid shut. 
Give the bottle a shake before setting it down to watch how the glitter slowly settles back to the bottom again. 
7. Shaving Cream Slip and Slide
The kids will love this. Take a baking tray and cover it with foil. Set it down and place a small upturned bowl inside. Cover everything with shaving cream. 
Collect a few jar lids to use as a sled and some small figures for the kids to play with. Send the 'people' down the hill on their little jar lid sleds.
Another fun idea using shaving cream is to smear it all over an outdoor glass door or inside on your shower screen. Let the kids write or draw in the shaving cream, then just hose it down to clean up later.
8. Colourful Rice Hunt
Kids love hide and seek and this one is even more fun! First you need to make your rainbow rice. 
Simply place 1 tsp food colouring in a plastic tub or glass jar, then add 1 cup of plain white uncooked rice. Put the lid on and shake until the rice is well coloured. 
Tip the rice onto paper towel and allow to air dry, or dry in the sun. Make a few different colours if you like, or mix them together to make rainbow rice. 
Tip the rice into a large shallow tub and add a few toy bugs or figurines for your child to find. Make it trickier for them by asking them to use some kid-sized tongs to find them!
If you store the rice in an airtight container, it will last for months.
---
---
8 simple sensory play ideas