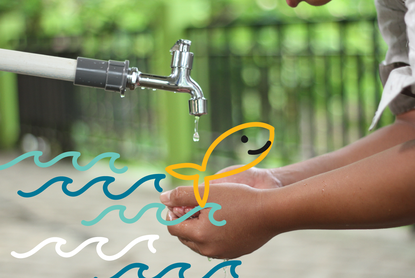 It can feel as though the snot, coughs and fever never end once you have children. Sadly, all the antibacterial wipes in the world aren't going to stop them from getting sick. 
When your kids are about to embark on their next adventures at child care, it's a good idea to get their immune systems in tiptop condition.
Here's what we recommend.
1. Clean hands
Kids' hygiene standards are not great, we can all agree on that. They think nothing of eating food off the floor, playing in the mud, picking their nose and chewing on toys. 
Regular hand washing is a great habit to get into. Before each meal or snack, encourage children to give their hands a wash with soap and water. 
This is often part of the child care routine too, so it is helpful if they're already used to doing it at home.
2. Vaccinate 
Herd immunity is essential if we want to prevent diseases such as chickenpox and measles from affecting our little ones. By working together as a community we can help protect our own children from being exposed to these potentially fatal illnesses.
Ensure your children are up to date with their required shots before they begin child care – you'll need to provide their current immunisation history to the centre as well.
3. Nutrition
The vitamins and minerals that your kids take in from their food play an important role in protecting them from illness. 
Each of these super star foods plays a role in boosting immunity. 
Vegetables such as

carrots

and

spinach

blend well into your Spaghetti Bolognese.

Nuts such as

almonds

are full of manganese and vitamin E. Together these can boost your child's immunity against disease. Nuts will need to be consumed at home due to allergy risks at child care. Whiz some up in a smoothie, serve nut butter on toast for breakfast, or try granola with chopped nuts. 

Cauliflower

and

sweet potato

. Try your hand at cauliflower and cheese sauce, or bake some sweet potato chips to serve with a BBQ. You can also make sweet potato pikelets by combining half a cup of mashed sweet potato with 2 eggs. Fry tablespoons of batter until golden on each side, then top with butter, maple syrup or nut butter. Or just eat them plain!

Onions

and

garlic

are powerhouses and can be blended into anything from pasta sauce to curried sausages.

Eggs

contain selenium, B vitamins and vitamin D, so they're a great way to get the good stuff into the kids. Try scrambled eggs for breakfast, boiled eggs as a snack, and mini quiches (just the right size for little hands). 

Legumes

can fill hungry bellies and the fibre content makes them great for gut health. Use them in a mild curry or soup.

Yoghurt

and other probiotic foods can boost your child's immune response. Pop some on their porridge, serve it as a snack with honey, or with fresh fruit for dessert. You can also whiz it up with fruit and freeze it in ice block moulds for a treat on a hot day.
4. Sleep
When kids are running on empty, stressed, or not getting enough sleep, it can lead to a depressed immune system (not to mention tired and cranky parents). 
Be sure to set up bedtime routines so that your children are getting a full nights' sleep, ready to get up and play at child care with their friends. 
Give them plenty of downtime at home by not overscheduling their free time with too many activities. Taking a blanket and a pile of books into the garden with your children is a great way to have fun while resting at the same time.
5. Exercise
Kids need to move, move, move to get that energy out! Get them playing outdoors to soak up the vitamin D from the sun (low levels are linked to autoimmune conditions). 
All that fresh air is great for little bodies too. Go for a picnic in the park, take a family bush walk, go fly a kite, or head to the water for a swim.
When children are given the opportunity for regular exercise it can also help encourage a good nights' sleep – which is a plus for the whole family.
What's it like when kids start child care?
Mum of two Cassie says that even though her eldest son seemed to catch everything going when he started child care, she wouldn't change a thing. 
'For me, having him in child care two days a week allowed me to get back to my part-time job and contribute to our family income. I think that kids are going to get sick sometimes anyway, so a runny nose here and there didn't turn me off using child care.'
Father of twins Alex says that his boys needed a diet overhaul, which child care actually helped with.
'We were having too many sweet snacks, and not enough fruit and veg. We found that when they started child care they were sitting at the little shared tables, eating with their friends. This encouraged them to pick up a carrot or celery stick every now and then, which they would never normally do at home.'
Not all children are going to get sick when they start attending child care. Doing all that you can now to boost their natural immunity gives them the best start possible.
---
---
5 immune boosters for toddlers starting child care