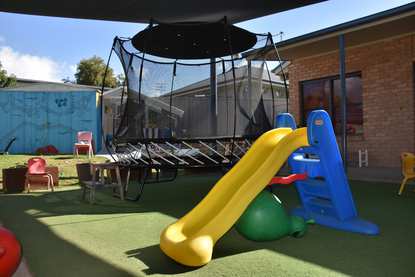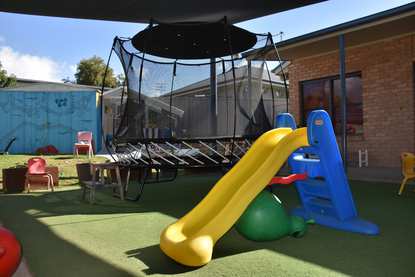 Puggles Child Care Centre
Included in fees
Breakfast, Morning Tea, Lunch, Afternoon Tea, Other Meals
About Puggles Child Care Centre
Puggles Child Care Centre is a family owned and operated long day care centre, located in Mudgee, New South Wales.
We are proud of our record of providing top quality child care services to the Mudgee community. That includes a commitment to not only keeping your child safe and happy while you work, but also providing a variety of opportunities for him or her to learn and grow physically, intellectually, and personally.
Puggles Child Care Centre was purpose built in 2007 and licensed and operating in March 2008.
kids collage
We are open from 7:45 am to 5:45 pm and provide quality long day care and education for children aged six weeks to six years. For your convenience, we provide all food and sunscreen.
Our centre has three rooms and each room has been designed to create an intimate homelike feel to encourage children to feel comfortable in their learning environment.
Our experienced and qualified educators provide programs based on the Early Years Learning Framework including a specialised School Readiness program taught by a bachelor qualified teacher, aimed at preparing children for school and beyond.
We would like to acknowledge the Wiradjuri people as the Traditional Custodians of this land and the first carers and educators of children at this site.
kids collage
We follow the Early Learning Framework guidelines!
The Early Years Learning Framework describes childhood as a time of belonging, being and becoming.
Belonging is the basis for living a fulfilling life. Children feel they belong because of the relationships they have with their family, community, culture and place.
Being is about living here and now. Childhood is a special time in life and children need time to just 'be'—time to play, try new things and have fun.
Becoming is about the learning and development that young children experience. Children start to form their sense of identity from an early age, which shapes the type of adult they will become.
Through the Framework's five learning goals educators will assist your child to develop:
a strong sense of their identity
connections with their world
a strong sense of wellbeing
confidence and involvement in their learning; and
effective communication skills
Puggles Child Care Centre provides learning opportunities that build upon each child's strengths while challenging them to explore their potential. Children are encouraged to ask questions as they build an understanding of the world, and their place in it, while learning to live and play happily and purposefully with others. We act as an extension of home and provide an environment where children feel loved, accepted and secure, as well as being a place where children are encouraged to achieve their best socially, emotionally and academically. We have a moral and social obligation to the children, their families and the greater community to provide the children with a core foundation that will support them through life to become active members of the community.
Puggles fosters strong home -school partnerships, creating a smooth and caring transition from home to preschool. Parent participation is encouraged and educators work in partnership with parents in optimising the learning of each child. We place great value on developing strong links between home and school. At all times we strive hard to develop partnerships based on mutual understandings, mutual respect and
continual dialogue promoting shared learning and collaboration. We view the child's time spent at our preschool as an apprenticeship in humanity where differences are embraced and acceptance of others is always encouraged as the best choice. Offering support to challenge and succeed within our 5 developmental outcomes, critical reflection and careful planning will allow each child's interests to be responded to and scaffolds their learning. We represent an educational vehicle, engrossing the children in projects and a learning system which allows them to question, examine and enjoy the challenge of the experiences before them.
It is our belief that when our children, educators and families of Puggles Child Care Centre intertwine, it creates the unmistakable essence that is uniquely recognized as that of Puggles Child Care Centre.
Availability & Fees
Vacancies
Location of Puggles Child Care Centre
34 Lions Drive, Mudgee
Are you a child care centre? Chat to one of our product specialists to find out more
Claim Your Listing
Mudgee suburb information
Average cost per day
Kindergarten
2-3 Years
$111
National quality standard
Calculate your subsidy