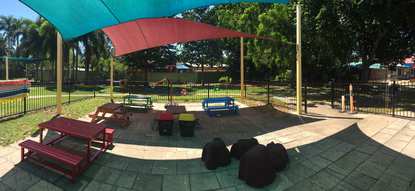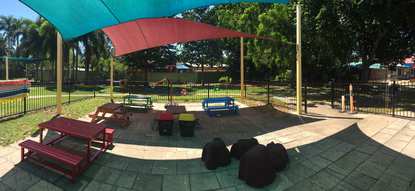 Manunda Terrace Preschool
About Manunda Terrace Preschool
Welcome and thank you for visiting Manunda Terrace Primary School's website.
Manunda Terrace Primary School is located in th​e Northern Suburbs of Darwin in the Northern Territory.
The school is divided into Early Childhood (Preschool-Year 3) and Upper Primary (Years 4-6) with a population of approximately 160 Primary school students and 20 Preschool students. Our vision is "to deliver a high quality, relevant and culturally sensitive education that makes a difference for all our students, where the diversity of the school community is recognised and highly valued as one of the school's defining feature".
Our school motto is "Learning for Life, Anchoring Strengths", in conjunction with our behaviour values of Responsibility, Honesty,
Respect, Sense of Fun & Kindness and Doing Your Best and our Learning Dispositions of Being the Force, Have Courage, Be Challenged, The Thrill and Reaching for the Stars. We are passionate about providing a safe and productive learning experience for all our students. We are very focused on the 'early years' and are determined to fulfil our vision of excellence for this area.
MTPS opened as Sanderson Primary School in 1984, with no air-conditioning and no lawn​ areas. The 'Parents and Friends Association' ensured both changed as soon as possible. The School's name changed to Manunda Terrace Primary School in 1994. Manunda was chosen because the school is situated on Manunda Terrace, so named because Manunda was the Hospital Ship in Darwin Harbour during WWII and the bombing of Darwin on February 19, 1942. The Sports House names were also changed to ship's names which were in Darwin Harbour during the bombing; Peary, Neptuna and Tulagi. Peary was the US destroyer which was hit during the bombing; Neptuna was a passenger ship serving as an ammunition freighter and Tulagi was a British troopship.
Feel free to explore our website to learn about all the fantastic stuff we offer our students. If you want to find out more you can contact us on
8997 7366.
Also, visit our Facebook​ page to see all the latest news and events that have happened here at Manunda.
Thank you.
Availability & Fees
Waitlist
Reviews for Manunda Terrace Preschool
Location of Manunda Terrace Preschool
31 Manunda Tce, Karama
Are you a child care centre? Chat to one of our product specialists to find out more
Claim Your Listing