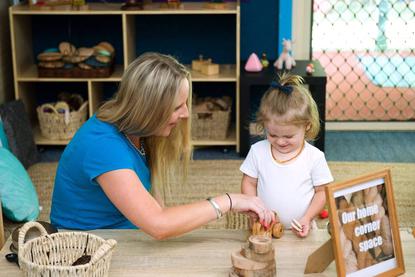 Goodstart Early Learning Anna Bay
Centre Highlights
Key educator relationships for strong family connections
External playgroup at the local primary school
Sustainability awareness program
Annual visit from Port Stephens Council garbage truck
Included in fees
Morning Tea, Lunch, Afternoon Tea
About Goodstart Early Learning Anna Bay
Set amongst the tranquillity of the Australian bush, Goodstart Anna Bay offers a unique and intimate early learning service nearby to the idyllic Worimi National Park. Guided by a Key Educator relationship, all children at Goodstart Anna Bay are nurtured in a play-based environment. From nursery to preschool, the children are encouraged to be active participants in their learning experience.
The wide, open outdoor play area is a balance of man-made and natural play equipment. Little minds and bodies can explore the wonder of the natural world in a safe, nurturing environment. The tranquil bush setting encourages sustainability awareness, and the veggie patches and worm farm start the children's understanding of where food comes from.
Inside, the newly renovated children's rooms boast new flooring and furnishings in natural elements to complement the beautiful outdoor play area. Each room provides the perfect setting for open-ended exploration. There are plenty of natural resources and stimulating surroundings where children can grow and develop in a nurturing, safe environment.
Close to schools and shops and tucked into a quiet, leafy, residential area, this nature-focused centre is a must for any budding conservationist. Why not book a tour today?
*Please note: fees listed are based on the centre's 10-hour session fee per day for 3 days a week. Selecting a different combination of days or sessions may result in an increase or decrease to the daily rate.*
Availability & Fees
Vacancies
Reviews for Goodstart Early Learning Anna Bay
Location of Goodstart Early Learning Anna Bay
6 Clark Street, Anna Bay