About Barker Kindergarten
All children can be competent, capable, independent and successful learners. Our play-based curriculum allows your child to explore and engage in their environment as they research their world.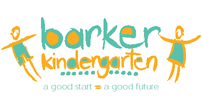 Getting to Barker Kindergarten
197 Tynte Street, North Adelaide
Opening hours
MONDAY - FRIDAY
7:00AM - 6:00PM
Google Reviews
Renaud Lunardo - 8 months ago

Our daugther Paloma came from France to Adelaide for a little more than 3 months and was enrolled at Barker Kindergarten. We chose this one school for our daughter because it was close to the house we rented. We couldn't have made a better decision. The staff has been awesome with our girl, who was not knowledgeable of english language, and made her feel comfortable and self-confident all the time she was there. I cannot think of someone at Barker who has not been kind and helpful, they were all awesome. And the school welcomes so many little boys and girls from a diverse set of countries that our daughter has ended up speaking a bit of english but also of some other languages, like Chinese. We are really grateful to Barker for all that they did for our daughter. We will never forget!
ACECQA nqs rating
Exceeding NQS