About Guardian Early Learning - Barangaroo
Every day is an opportunity for discovery and growth at Guardian Early Learning – Barangaroo, which is rated exceeding in the National Quality Standard. With a range of exciting, resource-rich environments – including a natural indoor/outdoor space – children are encouraged to explore and learn.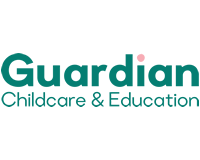 Child Care Fees & Availability
How old is your little one?
6 weeks - 12 months
Fees
$176.50 a day per child
Fees vary based on rebate availability. You may be eligible to a rebate of up to 75% of your childcare fees.
Calculate your subsidy
What's
included
Afternoon Tea, Breakfast, Lunch, Morning Tea
From australia.gov.au. Last updated - 30 December 2019
Getting to Guardian Early Learning - Barangaroo
Tower 1, Level 1 100 Barangaroo Ave, Barangaroo
Opening hours
MONDAY - FRIDAY
7:00AM - 6:00PM
Google Reviews
isil uysun - 5 months ago

Moving countries is never easy especially with a little one. Guardian Barangaroo has helped us overcome this giving us their best. The team was always there to help, they took my daughter's case individually and resolved that-and they do this for every kid that goes there. Very lucky to have the best team taking care of my daughter. All very much appreciated!

nisha chauhan - 5 months ago

Guardian Barangaroo rescued us when we needed them the most. And little did we know we will form bonds which will last a lifetime. Leaving my 6 months old with Guardian was assuring, comforting and rewarding. Its not just one person with Guardian but the entire community of educators, centre managers, other kids and parents which make it absolutely unique. They don't just give a safe and secure environment for our kids but a fun and happy place for them to learn new skills and play. My child is a happy confident little person, and it could not have happened without the contribution of committed and invested people at Guardian Barangaroo. We have transitioned from 0-1, 1-2 and not 2-3 and its smooth and always had my child in the centre of the decisions. its never easy or guilt free to leave you child with anyone but when I see my child rushing into the arms of educators and don't want to come back home, its a lot less. Thank you to everyone in Barangaroo branch for helping us and including us in your big family.
ACECQA nqs rating
Exceeding NQS